The 2019 EICMA motorcycle show is just around the corner (5-10 November), and the motoring event is expected to stage the debut of a long list of new and updated products. Austrian brand KTM is also set to unveil its updated portfolio at the motoring event. The company has given us the final glimpse at the 1290 Super Duke R prototype motorcycle before the annual event in Milan, Italy.
Also Read: Husqvarna 401 Indian launch rescheduled to 2020, high-end KTMs lined-up too
Do note that while KTM has been showcasing the prototype motorcycle in its teaser videos, we will see the production-spec 1290 Super Duke R at the 2019 EICMA show. Regular followers would know that the production-ready 2020 KTM 1290 Super Duke R was spotted earlier this week (reported on 31 October).
The 2020 iteration of KTM's flagship Duke series motorcycle will carry several visual and mechanical upgrades over the outgoing model. The list of changes begins right from the chassis that will feature a new layout. Unlike the outgoing version, the 2020 KTM 1290 Super Duke R will pack a revised frame that will use the engine as the stressed member and a bolted aluminium sub-frame. The new setup is clearly visible on the prototype motorcycle in the latest teaser video.
A spy photograph of the production-spec model, on the other hand, revealed that the 2020 1290 Super Duke R will retain the headlight design of the outgoing model. The changes to the front fascia will include a new, smoked flyscreen. The fuel tank and the rider seat have undergone some styling upgrade too. The 2020 KTM 1290 Super Duke R will continue to boast a single-sided swingarm.
The latest teaser also gives a clear look at the re-routed exhaust pipes to accommodate a larger radiator. The engine will go through some internal changes to comply with the latest emission norms. However, unlike some of the other manufacturers, KTM has not opted to increase the displacement. Thus, the 2020 flagship Duke will continue to use a 1,301 cc V-twin, liquid-cooled motor. The performance numbers, however, will be reportedly higher than the current model, and the 2020 version could pump out 180 PS to 190 PS of peak power as against 176 PS on the outgoing 1290 Super Duke R.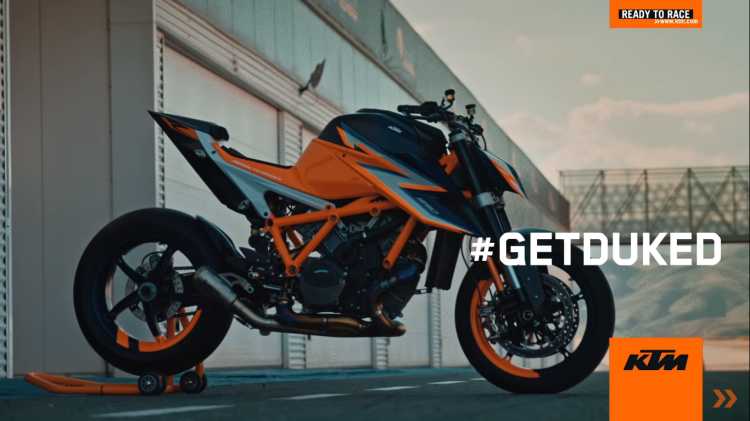 Also Read: KTM Industries to produce 2 lakh motorcycles in India by 2022
KTM will equip the 2020 1290 Super Duke R with top-spec components, and we would see fully adjustable suspension setup, Brembo sourced braking callipers and a comprehensive electronics package on the naked roadster.