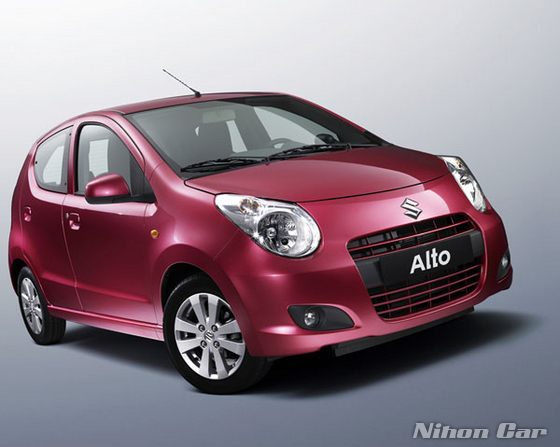 The Hatchback season has started! The much hyped Maruti A-Star is all set to make its debut, that too in a couple of weeks! That's hot news for sure. This is the main reason why i recommend everybody out there to postpone your other bookings until you take a good look at the A-Star. Its one car that is sure to stir up the already buzzing hatchback segement.
Also note that India is the production hub for the A-Star for the entire world, and this is a radical shift in operations as many manufacturers like Suzuki (A-Star), Nissan, Hyundai have announced that India will form their base for production of all small cars in their line-ups.
PRESS RELEASE from The HINDU
NEW DELHI: Maruti Suzuki is all set to launch its much-awaited next generation 'K' series engine that will be introduced in all its cars in India in the next three to five years. It will also be critical for the success of Japanese Suzuki Motor Corporation's future strategic global models.
Being seen as a "generational change" in Suzuki's engine technology, the 'K' series engine will be rolled out from Maruti Suzuki's new engine plant at its Manesar (Gurgaon) complex next month. Apart from being Euro IV and Euro V-compliant, the new engine will be highly fuel-efficient that will be first introduced in soon-to-be-launched global car 'A Star'.
Both Suzuki and its Indian subsidiary Maruti are banking heavily on its compact world car 'A Star' that will be equipped with new one-litre petrol engine. Japanese carmaker Suzuki hopes that the "green engine" would give it a strong foothold in the European markets. And for Maruti Suzuki, the new compact car would help further consolidate its position in the Indian car market and prove to be a timely answer to other newer products being launched by its competitor in the fast growing Indian automobile market. The new engine holds much significance for Suzuki whose Chairman O. Suzuki, is on a three-day trip to India from Monday. He will also be visiting the new engine facility, that is part of the Rs. 9,000-crore investment being made by Suzuki Motor Corporation in India, and discuss the company's future strategy vis-a-vis the 'K' series engine with Maruti's top management. Mr. Suzuki would also preview 'A Star' at the Manesar (Gurgaon) assembly plant that is undergoing capacity expansion to reach three-lakh units.
'A Star' will make its India debut within a few weeks and then enter the European market early next year. While its 100,000 units would be exported to Europe, 50,000 units will be sold in the domestic market.
Currently, Maruti Suzuki has five types of engines used in its different models. The F-series engines in the Maruti 800, Omni, Wagon R and Zen Estillo, the G-series (two variants) in the Swift, Dzire, Esteem and Versa, the M-series in the SX4, and the K-series in the 'A Star'.