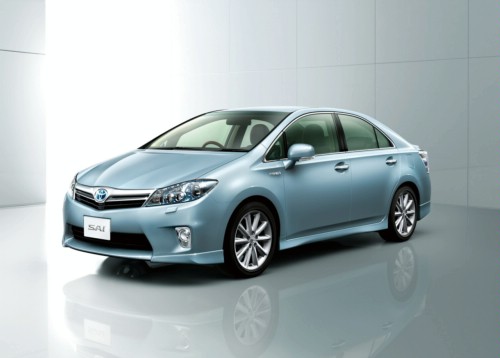 The Toyota SAI is based on the Lexus HS250h. It is meant only for Japan.
167bhp engine for Fiat Punto
For a minute you must have related the 167bhp to the higher spec Punto which Fiat is developing for India. Sadly, I'm not talking about the Indian Punto or customer. This totally pertains to the Abarth version of the Punto Evo which was shown at the Frankfurt show last month. The Abarth version of the Punto Evo will receive a 167bhp version of the Multiair engine, which is only applicable to the petrol unit. Abarth is the tuning arm of Fiat, for those in the dark.
Toyota Sai
Toyota has unveiled a new hybrid sedan christened "Sai" for the Japanese market. Toyota intends to sell 3,000 Sais monthly. It uses a 2.4-liter petrol engine producing just below 150 horsepower and 187 Nm of torque. Mated to an electric motor, powered by a nickel-metal hydride battery, an additional 140 hp and up to 270 Nm of torque is available to the wheels.
AuSTARlia - A-Star going to Africa, i20 to Australia
With the curtains coming down on the scrappage scheme in European countries, production levels in Indian manufacturing plants are not where they were before. To keep the plants operating in full swing, Suzuki is looking at exporting the A-Star to Africa, while Hyundai is looking to push the i20 down under. The companies hope both these markets will create enough demand and the production levels will be maintained higher.
A house full Geneva Motor Show 2010
Authorities charges with managing next year's Geneva Motor Show have issued a statement that all auto manufacturers will take part in the 2010 edition of the show. This year's shows saw a lot of absentees, and even the Japanese Motor Show that's happening as you read this, has only two foreign brands participating. Let's not forget Geneva is where Nissan will show the all-important next generation Micra.
Skoda's 178bhp Fabia vRS is coming early next year
In early 2010, Skoda could introduce a 178bhp Skoda Fabia in UK. Wearing the vRS badge, this Skoda will boast of a maximum speed of 140mph. It will go from a standstill to 60mph in less than 7 seconds! Powered by a 1.4-liter 'Twincharger' unit, this Skoda will take its position as one of the insane variants, second only to the rally-bred Fabia S2000.