Maruti and Toyota come on top.
Vehicle dependability in India is going up, with more owners complaining less about problems with their vehicles, says a report issued by JD Power Asia Pacific. A total of 38 percent of respondents mentioned that they were experiencing no problems with their vehicles.
The report, officially titled the J.D. Power Asia Pacific 2014 India Vehicle Dependability Study (VDS), is now in its 7th year and takes into account original owners of vehicles that are at least 30-42 months old in 169 problem symptoms across 9 vehicle categories.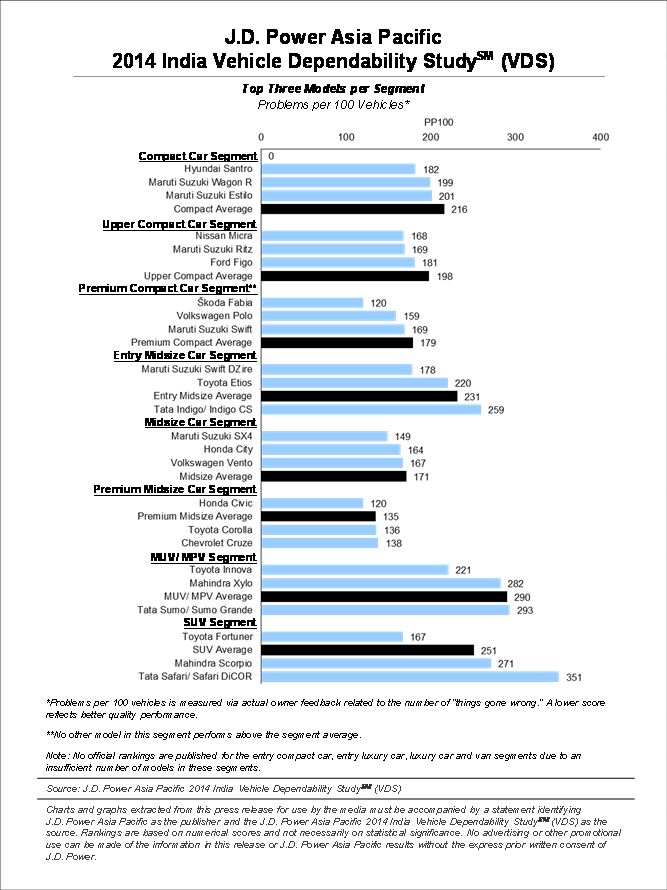 In absolute terms, people reported 218 problems per 100 vehicles (PP100) in 2014, compared to the 280 PP100 last year. The study also reveals that although owners of diesel-powered vehicles reported more problems than petrol-powered vehicles, the disparity between the two is coming down. In 2012, the gap between the PP100 in diesel and petrol powered vehicles was 71 and this has come down to 22 PP100 in the recent survey.
Problems like uneven tire wear, excessive misalignment and unusual suspension noises were most common amongst owners of diesel-powered vehicles. Noise-related issues, possibly one of the most common problems with diesel vehicles, have also come down from 47 PP100 in 2011 to 32 PP100 in 2014.
The study took into account 70 vehicles in 12 vehicle segments. Maruti Suzuki and Toyota have 2 models in their respective categories, with the Swift Dzire ranked best in the entry midsize segment and SX4 highest in the midsize segment. For Toyota, the Innova ranks best in the MUV/MPV segment, with the bigger Fortuner leading in the SUV segment.
JD Power Asia Pacific - Vehicle Dependability Survey 2014
[Can't view the document? Head to SlideShare]