The SUV with "uncompromised safety" scores zero stars in the Global NCAP crash test for the base variant.
What seems to be an embarrassment for a premium segment compact family SUV, Global NCAP has awarded the Renault Duster - one of the best-selling SUVs in India - zero stars in its crash tests.
[Youtube link]
What is shocking here is that the India-made Duster with a driver airbag was awarded a mere 3 stars, while the comparable South American specification scored 4 stars in Latin NCAP tests conducted in 2015. Global NCAP says this is owing to a bigger-sized driver airbag on the Brazilian-made version that offers the required protection.
It was found that the driver's head did not contact the "smaller airbag" in the centre as it should, exposing the head to impact on the steering wheel and therefore increasing risk of injuries. The South American version (driver airbag, tested in 2015) had a larger-sized airbag that covered the head as well as chest of the driver, reducing the risk of further injury.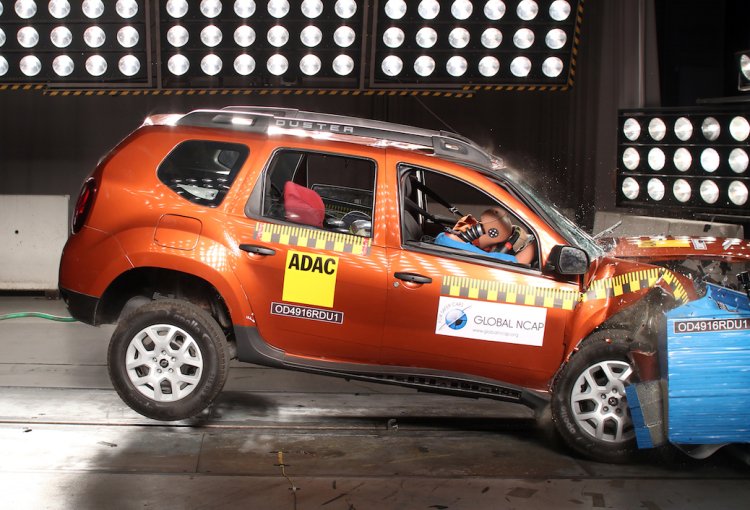 According to the NCAP testers, the protection offered to the driver's head was poor, driver's and passenger's chest protection was marginal, the front passengers' knees could impact with dangerous structures in the dashboard, and the bodyshell was rated as unstable as well as not capable of withstanding any further loadings.
The India-made Duster still doesn't offer a driver airbag or ABS (or both) as standard, despite rivals like the Honda BR-V and Hyundai Creta equipping the same in their respective base variants. In the Duster, dual airbags and ABS are only fitted in the top-end RxS and RxZ grades, while the RxL grade gets a single airbag + ABS, and the RxE makes do with only ABS. Other safety features like ISOFIX seat anchor points, seat-belt pretensioners, side and curtain airbags are not even options.
The Duster (badged as a Dacia) made in Romania for European countries (and UK) was given a 3-star rating in the EuroNCAP test in 2011, making the Indian version the least safe specification made by Renault in the world.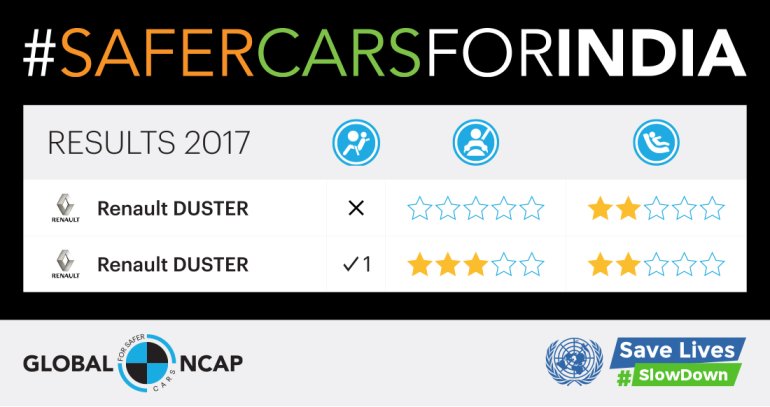 India will adopt new crash test norms starting October 2017 that will meet the UN testing protocol of 56 km/h frontal offset and side impact crash norms, which is still lower than the Global NCAP's 64 km/h standard.