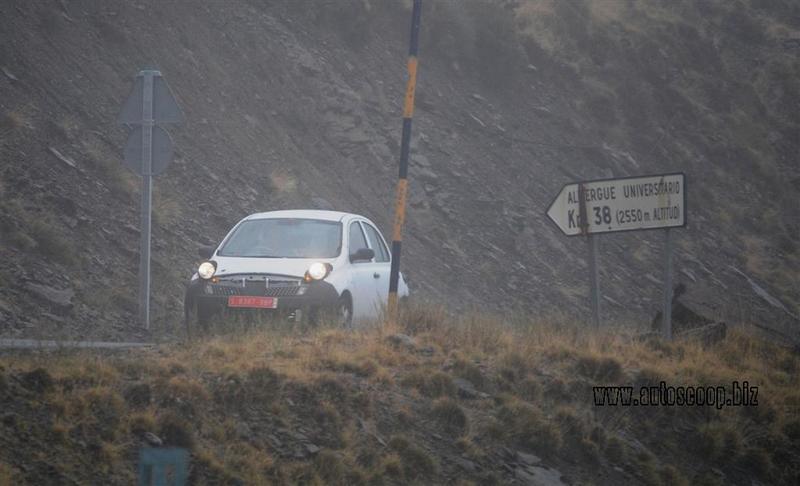 Here we bring you the exclusive spy shots of the next generation Nissan Micra/March's test mule. Nissan is probably testing the technical components of the next gen car in this mule. Why else would the car have covered bumpers and badges? It has a wide range of engines, including Renault-sourced 1.2 petrol and 1.5 direct-injection diesel (Deja Vu-Logan?) powerplants, and offered an improved driving experience. Expect a locally sourced petrol engine or a down-sized diesel powerplant to make it eligible for excise sops. This stylish, all-new Micra will help Nissan bolster its market share in the smallcar space.
Nissan March/Micra picture gallery Press Release
Speaking to the press Nissan Motor India managing director Shouhei Kimura, ''The small, next-generation car 'March' will be launched in India by 2010 in the 'A' segment category.  The car would be manufactured at the company's plant situated at Oragadam in Tamil Nadu, though initially the car would be rolled out from the company's Thailand facility followed by India. He said the development of an 'A' platform is one of various initiatives taken as part of Nissan's new five year business plan the GT 2012. Kimura said, ''We would have a total of nine Nissan models by the year 2012 in the Indian market and this car would be one of the new models." The company says the March would have a local content of 80 per cent. Kimura said India is one of the five leading competitive countries for manufacturing and exporting the car from Nissan's global manufacturing network. Nissan signed a memorandum of understanding with the Ennore Port in Tamil Nadu from where the company would export cars. Kimura said that by 2011 Nissan would be exporting around 110,000 units, which would include this new model. Primarily the exports would cater to European markets from the second half of 2010. Nissan also proposes to widen its dealership network in order to sell higher numbers in the country. ''We would increase our dealership network from the present 5 to 55 by 2012," Kimura said. Kimura declined to comment on the timing of rolling out of the car from the other three countries. He also did not announce the number of cars to be rolled out saying it is too early to say.
The Nissan 'March'
The Nissan March supermini is being produced by Nissan since 1982. Since 1992 the car has also been made in Europe, the US  and the UK. Outside Asia mainly in Europe and US it is known as the Nissan Micra. The last time the company gave the March a facelift was in late 2007. The next model is expected to be launched worldwide in 2009. Starting with the K10 model in 1982 successive March models have been code named K11, K12 and so on. The March / Micra K10 first went on sale the UK in 1983, and met with instant success. In 1990 the March was the eleventh most popular new car in the UK with having sold 50,000 units. It was a popular choice due to its ease of driving, solid build and durable mechanical components. The second incarnation of the March / Micra was launched in 1992, production being in Britain and at its Washington plant rather than in Japan. Like its predecessor, it remained a very popular car, thanks to its fuel economy. However, it was available with a limited range of engines: 1.0 and 1.3 petrol units. The car received a facelift in 2000 which saw the 1.3l engine being replaced with a 1.4 unit. This upgrade, after a previous makeover in 1998, enhanced the car's appeal and it was still fairly popular on the launch of its successor in December 2002. The third generation model of the March / Micra was made at the Sunderland in the UK. The March / Micra is known for its reliability, excellent build quality, and user friendliness. The K12 model that came out in 1990s received consistently good overall reviews, main criticisms being its lack of headroom and luggage space in the rear. Another criticism that came its way in the UK was from insurance company that rated it as a dangerous car in case of crash in 1988-1995. However, its safety specification has improved with successive models. The K12 Micra came on  top of its class in What Car? magazine's Security Supertest in 2003, passing both entry and driveaway tests and achieving a maximum score for its locking system and immobiliser. In an independent test, the Micra was found to be more secure that certain BMW and Mercedes models. In British magazine's What Car?' Reliability Supertest in 2007, Nissan ranked 6th out of 26 manufacturers overall, with the K11 Micra (1998-2002) being its most reliable model. The next generation Nissan March (W02A) will be unveiled in Feburary 2009. Globally it will be based on a revamped B-platform with a new 1.2-1.3l engine. It will be built in Japan, UK, Thailand and in Chennai, India in partnership with Nissan shareholder Renault. The company's US plant in Washington will manufacture an entirely new model that will compete in the same market segment as the March/Micra. Source : Info-
Domain B
and Pics-
Auto in car