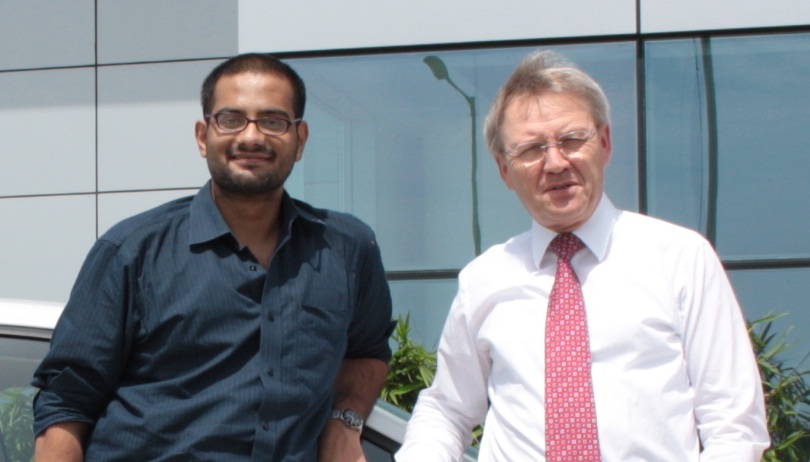 As I shake hands and greet Kurt Rippholz, I sense he isn't going to be a run-of-the-mill automotive industry spokesperson. He isn't going to reply "no comment" or "we will come out with an announcement shortly" for my inquisitive questions.
We sit down in a conference room at the VW India's Chakan plant, and we're joined by Alexander who is enjoying his third day in India. Soon, Alex will take over as VW India head spokesman with Kurt deciding to hang up his boots later this year and spend his remaining years with family and friends back in Germany.
Kurt can hardly hide his emotions when he states he's slipping into retirement. Volkswagen and India served him with such strong and memorable moments.
- I start proceedings by asking Kurt about the Vento (Polo sedan). For those in the dark, the booted Polo is exclusive to India and Russia. So are there any regional differences so to speak?
Kurt tells me the seats and interiors are going to have slight differences. The Indian model will have extra space. The seats are more comfortable and the horns are designed to last longer. 500,000 cycles to be precise! That's more than 5 times the life of the Russian horn!
- Going from one sedan to another, I quiz him about the 2011 VW Jetta. The vehicle was unveiled recently in a grand manner at New York. From the pictures, it looks very much like an extended, decorated and polished VW Vento.
VW India is working on bringing the new Jetta to India. Though there wasn't a time frame specified, one can expect the Jetta by the first half of 2011. The new Jetta could have certain visual differences compared to the American model. I'm sure VW will make changes to its interiors, seats to suit the preferences of Indian customers, just like they did with the Vento. VW could give it a mild cosmetic makeover as well.
- The VW Tiguan has kept Indians interested though no one has seen or experienced one. I ask Kurt with 9,000-odd bookings for the direct rival Toyota Fortuner, and BMW bringing in the X1 later this year, what's VW waiting for?
Kurt says there are no concrete plans for the Tiguan. The company is still looking for visibility. The taxes kill competitiveness. The CBU option is ruled out. The CKD option makes for a costly proposition. If they were to produce it locally like the Polo, there isn't enough demand, he claims. He asks where that number (9,000) is coming from. He's not sure himself.
- The latest buzz in town is on the small car that will slot beneath the Polo. Is it the VW Fox? Will it be cunning?
"No, the Fox is not our small car. We're discussing the "Up!" (which we learned last week will be branded "Lupo") internally. We still don't know whether it is going to be Up! or another small car. Our next step is certainly a car below the Polo. It will have attributes of bigger Volkswagens like the Jetta or the Passat. Don't mistake me, we will not build a Nano. For safety and quality reasons, we'll not build one. We're looking at making a car a segment higher than the Nano."
- With the advent of the VW-Suzuki partnership, I shoot a question in point blank range  - Will Maruti help "Indianize" the VW Up!? Or will you both develop a new range of models for India?
"You see, Suzuki is very strong in Asia. Suzuki makes small cars. VW on the other hand is very strong with bigger cars in America and Europe. We also have expertise in engine technology. We have setup offices in Wolfsburg and Japan and I tell you that it is too early to discuss any details. There's a lot of opportunity here to work together."
- So is there going to be sharing of dealership space?
"No, the dealerships will be independent. Let me give you an example. All of the VW group's spare parts for India arrive at Aurangabad where our staff segregate them and send them to the respective dealerships. Skoda, Audi and VW spares arrive in a crate, but when they reach the end user, they have their own identity. We don't want to put a Audi part in a Skoda box and deliver it to our customers."
- The Polo Bluemotion was unveiled simultaneously with the Polo last year at Geneva. It's basically a frugal version of the Polo with added technology like better aerodynamics, tires designed to offer lesser resistance to motion, etc. Shouldn't have VW launched the 4-door Bluemotion given Indians look for fuel economy figures even when buying a Rolls Royce?
The first hampering factor is the quality of fuel available in our country. Kurt feels there is a lot of difference in fuel quality and the remote areas of India is where it is sometimes not the best. The Bluemotion will be a great idea if the Indian government can assure of standard fuel quality across the country. Moreover, VW have started with a model this year and they will continue to work on it over time to better it. VW India's R&D team is working on the Polo. Not for international markets, but to suit the Polo to Indian conditions better.
Kurt says the TSI model is not ruled out for India. Their first step is to ensure that the basic demand for the TDI and petrol variants are met. Beyond this point, the TSI could reach our shores.
- What about the VW Caddy? Isn't that a terrific alternative to current options for the fleet operators?
"No, the Caddy is not an issue for VW at the moment. Its case is similar to the Tiguan"
Why did VW India introduce the Touareg and Beetle last year in India fully aware that the Beetle's production will end to make way for the next generation model. The same is the case with the Touareg, the successor has already been unveiled?
- "If we waited for one year and then introduced the Touareg in India, the customer will go for X, Y or Z. We want the customer to buy our product and after five or so years when he's looking to buy his next car, he would come to VW for the replacement."
- Isn't the VW Golf a car that defines what the brand stands for? Frankly once you drive a Golf, you're bound to walk away impressed. Shouldn't that be on your agenda given the Indian hatchback space is a fruit salad than anything else and offering something unique is what the doctor called for?
"Golf is a segment above the Polo. India is a country where the customer is not willing to pay a higher amount for a hatchback. He'd buy a sedan. So the Golf wouldn't make sense"
VW is one of the largest automobile companies in the world and is feared by all its competitors. In India, the story is very different. Every second car sold in the country comes from Maruti Suzuki. The total production capacity of VW's plant in India per annum is about the number of vehicles Maruti sells in India per month.
Simply put VW isn't looking at volumes at the moment. It is taking its baby steps in India. Whatever it wants to do, it wants to do it right in the first attempt.
The Polo is VW's best small car for India and I'm glad they didn't introduce the older generation Polo with a facelift. VW wants to bring relevant products to India and offer customers what people are buying anywhere else on the globe. VW's still very much in the early stages of learning what the Indian customer likes and what he doesn't want.
For VW to be as established as it is in Europe, it needs to focus on bringing in cars that have all the traits of a VW. They shouldn't make cars to attract a Maruti or a Hyundai customer, that is a trap which they shouldn't fall into. They'll have to build vehicles which have an attractive personality and more importantly unique identities. The Polo, it seems, is a step in that direction.