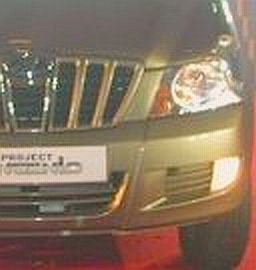 One of our Indian Autos Blog readers emailed us an image of what he thinks is the soon to debut Mahindra XYLO. The image is low-resolution but the signature Mahindra grille and emblem with a new and unseen headlight and bumper design confirms that this is after all the XYLO.
Look closely at the number plate, you can view the letters I and O, and the word "project" just above it. What this could be is "Project Ingenio" indicating the picture must have been taken before the XYLO name was christened to this vehicle.
From what we can see, Mahindra have pinned the fit and finish aspect. The bonnet line looks neat and the headlamp design head-on is similar to the Tata Sumo Victa. The portion of the bumper where the fog lamp sits, is fitted with plastic conveying this is a base model. The brown color adds appeal which both the Scorpio and the Bolero are offered with.
The Mahindra XYLO launch is days away and the hype surrounding this vehicle has been much more than any other automobile launched in India till date. Be it the teasers or the promos and the social media activity, Mahindra has made sure that everyone wide and far are talking about this car. It's an MPV, but this time it's going to be stylish and spacious.
IAB Verdict- Crisp design, simple lines, stylish interiors- Is this going to be a next gen Chevrolet Tavera?