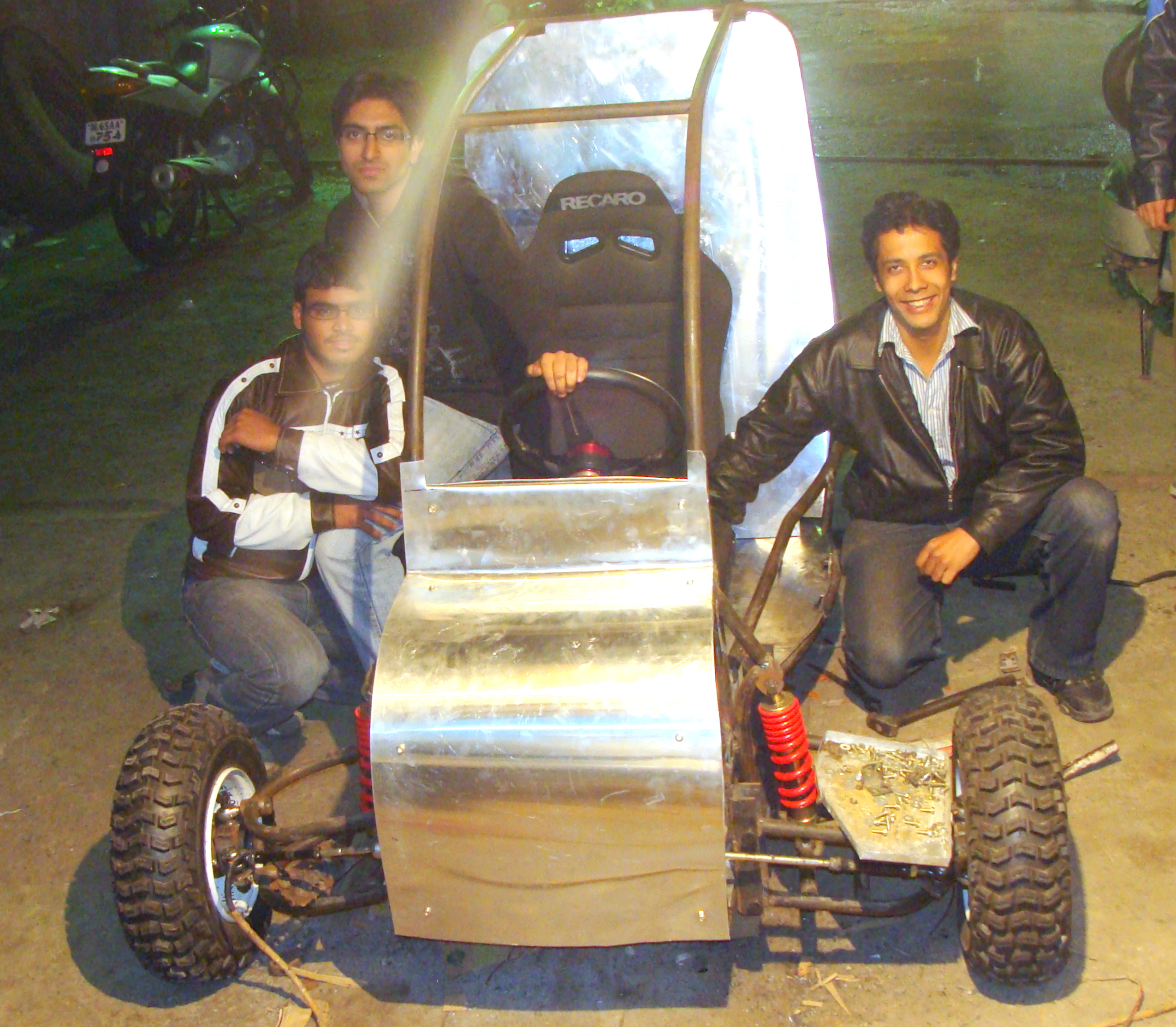 'The Techie Tyros' is an enthusiast group of seventeen individuals endeavoring to enhance and refine the aspect of practical engineering through hours of hands on work outside the classroom. It is one of the fifty nine teams selected for JK TYRE SAE BAJA INDIA 2009 competition.
The team represents 'The Institute of Technology and Management, Gurgaon' registered under 'Maharishi Dayanand University, Rohtak' It is a prime and the most sought after technical institute in Haryana. After proving its capability and mettle in MINI BAJA 2007 the college does not wish to rest but keep going which has always been the best feature of this institute. It plans to mix the right kind of talent, passion, vision and innovation to reach the pinnacles and then continue to redefine them. The college has always been inclined towards creating opportunities for students to develop competencies and skills at par with the growing standards around the globe.
The team is fortunate to have the able leadership of our team captain Raman Sarin and the never ending support of our faculty advisor by choice Mr. Ashwini Sharma. The seventeen members of the team are very much active so we have the privilege of having seventeen new ideas daily. We also have the infinite support of our entire Mechanical and Automobile Department and also of the college management.
S.No    Name                    Year and branch      Department and designation
1.    Raman Sarin                4th/Mechanical      Design head
2.    Prashant Goyal            4th/Mechanical      Suspension head
3.    Ajay                           4th/Mechanical      Steering, brakes and tyres head
4.    Manjeet                      4th/Mechanical      Fabrication head
5.    Tarun Gambhir           4th/Mechanical      Cost and estimation
6.    Abhishek Bhatia          4th/Mechanical      Cost and estimation
7.    Ayush Saxena             4th/Mechanical      Design
8.    Abhijeet Deswal          4th/EIE                 Marketing and communication head
9.    Anshul Tiwari             3rd/Mechanical      Marketing and communication, Fabrication,spokesman
10.    Vikrant Dalal            3rd/Mechanical      Transmission and fabrication
11.    Sunny Kumar            3rd/Mechanical      Transmission and fabrication
12.    Vikas Vats                3rd/Mechanical      Design
13.    Vineet Sharma          3rd/Automobile      Engine and fabrication
14.    Deepak Kumar         3rd/Automobile      Fabrication
15.    Narender                 3rd/Automobile      Engine and fabrication
16.    Simranjeet Singh       3rd/Mechanical      Computer aided drafting
17.     Nitish Bassi              4th/Mechanical      Fabrication
SPECIFICATIONS OF THE CAR
The vehicle we are making is an All Terrain Vehicle (ATV). It is a rear engine rear wheel drive meant for off road driving purposes like golf carting, adventure sports, warships, mining etc. Our ATV is single seated powered by the LGA 340 cc engine sponsored to us by LOMBARDINI. The gearbox is a four forward and one reverse with in built differential sponsored by MAHINDRA & MAHINDRA. The other specifications are listed below.
ROLL CAGE
Made out of IS 1239 Part 1 heavy duty pipe having a yield strength of about 480 Mpa which is much above the stated requirement of 370 Mpa.
Designed so as to ensure maximum safety to the driver. The length of various members has been kept small so as to have maximum strength and rigidity.
MIG welding and not Arc welding has been used to weld the roll cage. This again keeps the roll cage high on strength and rigidity. It has been made in a very compact manner so as to keep easy accessibility to controls and to ensure a better balanced car.
TIRES
The front tires have an outer diameter of 21 inches, rim diameter of 10 inches and 8 inches of tread width. They are 6 plied tires having a tread height of about 5.5 inches.
The rear tires have to provide the drive hence they are having an outer diameter of 22 inches, rim diameter is 10 inches and tread width is 11 inches. They are also 6 plied having a tread height of about 6 inches.
Due to these specifications these tires provide very good traction and thus transfer good amount of torque. Built with 6 plies and reinforced casing these are one the most puncture resistant tires in the market today.
Large shoulder knobs wrap down the sidewall to provide excellent side to the pullout of the ruts without causing sidewall failure. Smaller tires in the front result in better steering control. The deep tread and open wing design provides excellent clean out with each lug and improved traction.
SUSPENSION
We are using equal wishbone suspension for both front and rear. This gives more movement to the tires as compared to the conventional Mac Pherson Strut for the same spring compression. It is an independent suspension system.
With this type of suspension system there is a better distribution of forces on the roll cage.It can be slightly adjusted for the different suspension parameters like camber angle, ground clearance etc during testing and then finalized.
BRAKES
We are using disc brakes in all the four tires. This gives us the advantage of the ability to lock all the four tires at the same time which is a requirement according to the rulebook.
The material of the disc has a better friction material so we have more coefficient of friction. We are using X type lining in the brakes to ensure efficient and reliable functioning of the brakes. The disc is a multi hole one so the heat dissipation is very high.
STEERING
We are using a customized rack and pinion steering. It has a steering ratio of 19.8:1 and a turning radius of 9.5 feet. The steering is fitted with a removable steering wheel for the easy and comfortable exit of the driver.
Also by using customized rack and pinion steering we have been able to reduce the weight as the conventional recirculating ball type steering weighs a lot.
AESTHETICS & ERGONOMICS
Our car is physically appealing. Sharp edges have been avoided and body has more curves then sharp turns.
The controls have been intelligently placed.The controls are accessible and convenient to use.
STEPS ADOPTED FOR WEIGHT REDUCTION
We have used Aluminum in the tire hubs. The number of members in the roll cage has been reduced.The length of the members has been kept less so as to increase strength and reduce the unnecessary weight at the same time.
We have used Aluminum sheets for flooring etc rather than the conventional GI sheets. We are using fiber sheets at places which will not face the impact to reduce the weight.We have used customized rack and pinion steering rather than the recirculating ball type as the latter is much heavier.
THE UNIQUE SELLING POINTS
It is a very safe vehicle. The roll cage is very rugged and sturdy and would under all circumstances ensure maximum safety to the driver.
Maximum standardization of the parts has been ensured for increased replace ability and less maintenance cost.
Maximum use of bolts has been made so as to ensure maximum serviceability. The steering wheel is removable so that the driver can make an exit very comfortably. The controls are accessible and convenient to use.
A special arrangement has been made for things like fire extinguisher, tool kit etc
A team of seventeen members 'THE TECHIE TYROS' from our college decided to take part in it. The team got selected amongst the final 27 teams to design and manufacture an ATV. The college being relatively unknown for its mettle in automobile engineering took this opportunity as a challenge and decided to cash in upon it. The result showed the amount of sincere work put into the project as we ended up at an overall rank of 10th and 2nd in North India behind only PEC Chandigarh leaving behind the big guns like IIT Delhi, DCE Delhi and NSIT.
MESSAGE TO THE OTHER TEAMS

This is a great opportunity for all of us and as there is no security but only opportunity we must grab it with
both hands and make the most out of it. We are all diseased by the same automobile bug that is why we are all here so it is more or less a dream we are working for.
It is said that when you wake up in the morning you have two choices. Either you continue your dream in the bed, or you can get up and make your dream come true.
So let us all just step out and work. We should not look upon each other as competition and threat but as a team of sixty colleges looking to place India on the global map not just for manufacturing but also for designing.
So let us just go all out for the event and enjoy it. Best of luck to all teams from our side and looking forward to meet all the technocrats.
With inputs from the team
IAB Comment- We wish the team the very best for the competition. Thank you Techie Tyros for entertaining our audience. Their wishes are there with you.