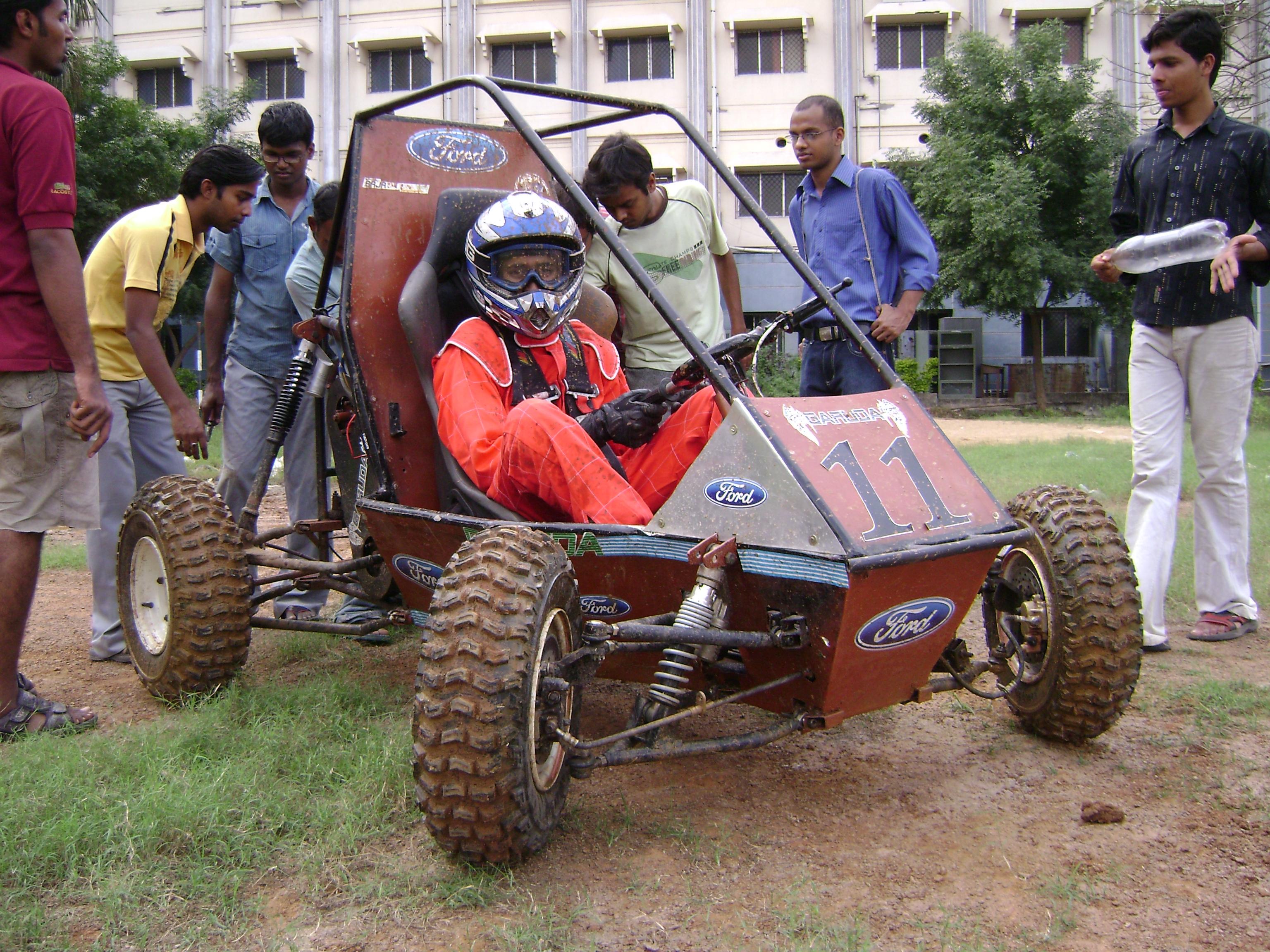 Ford GARUDA - Vehicle No. 11 sponsored by FORD INDIA

Dr. M.G.R. Educational & Research Institute, Chennai – 600 095
With the immense team spirit and faith, gained working together since BAJA'07, team Ford GARUDA of Dr. M.G.R. Educational & Research Institute, Chennai believes it can come out with flying colors in BAJA'09. Our strategy has been moving around proven facts, specifications given, and involves in it the discipline and hard work of our team. The faith in our abilities, the ambition and inherent auto-passion in each member has yet again brought us together not just to be a part of the competition but to win it.  Thirteen member team comprises of ten final year while three pre-final year mechanical engineering students.
The team
Final Year-
Anshuman Vagesh (Captain), Deenbandhu Prasad, Lokesh Kumar, Madhav Kishore, Mobin Joseph, Naman Dugar, Navjot Jain, Nikhil Anand, Pritish Shubham, Umesh Raghuwanshi.
Pre-final Year-
Ashish Kumar, Auroashish Mohanty, Praveen Anand.
The team is lucky to have the support of college in general and the staffs of mechanical department in particular. Prof. L. Vincent Paul is the visiting faculty advisor of the team.
The Baja prototype that the Ford GARUDA intends to bring out for the 2009 event is a result of extensive design and analysis cycles, a concurrent engineering approach as well as an attempt to outperform the benchmarks established. The vehicle is way ahead than the last year one in all the departments. The techniques of design for manufacture and assembly (DFMA), fault analysis techniques like rigorous brainstorming sessions and periodic reviews were the major modus operandi of the team.
Identifying the limitations and coming hard on them sets Ford GARUDA apart from others.
The compact, light and formidable built of the vehicle is expected to cater to the punishments offered by the track and at the same time providing optimum drivers' comfort and safety. The main focus has been the suspension system. An impressive mutual compatibility of suspension, steering and wheel assembly adds to its unique features. An adjustable drive ratio is another one. Moreover, the ATV is equipped with all drivers' safety gears. A detailed look follows as under -
Suspension
Fully independent and unequal non-parallel A-arm suspension (both rear and front) with accurately determined hard points on packaged wheel assembly determines the impeccable vehicle stability and control. The provision for adjustable geometrical parameters offers the best bet for required directional stability. The static ride height of the vehicle is 9-10 inches as desired. Readymade coil over shocks has been used against gas shocks or custom made ones for their reliability.
Steering
Self-fabricated direct linkage tiller (handle bar type) steering have been designed and incorporated in the vehicle. The clutch and gear arrangement rests on the steering handle while others are foot-operated as per the regulations. It has been tried to achieve a lower steering ratio and as tight of turning radius as possible to perform well in maneuverability competition. Moreover, design aims at eliminating the bump steer as much as possible.
Brakes
A hydraulic braking system with a single-foot mechanism increases the safety and maneuverability of the vehicle by locking all four wheels in a time of about one-third of a second. Double piston light weight calipers are powered by a tandem master cylinder. Tandem master cylinder increases safety by incorporating dual redundancy as well as for SAE rules compliance. Perforated disc brakes dissipate heat more readily and are light. Two standard red brake lights have been used which are independent of kill switch circuitry.
Tires
The tire configuration for front and rear are 21*7-10 & 22*8-10 respectively. The light weight ATV tires have aggressive tread to perform well in loose dirt, dry as well as muddy conditions by offering higher traction. With a sporty look it has enough rim size to accommodate the brake assembly.
Weight Reduction
The self-fabricated parts like uprights, spindles and Al-hubs, handle bar steering system, eliminating the non-necessary chassis linkages/flanges and clinically tailored parts has led us limit the weight of the vehicle as low as 255kg. Light weight seats and tires, use of Aluminium sheet metal for the cover (against Mild Steel), perforated disc brakes and small, compact roll cage are the other factors in weight reduction.
Vehicle dynamics has been a special concern throughout the process of design, manufacturing and testing/validation. This along with the serviceability, physical appeal and robustness are the other qualities that make it stand out of the folk.
Ford India Pvt. Ltd. is the team sponsor
Ford Motor Company is the world's fourth largest auto maker based on worldwide vehicle sales. It has been manufacturing, designing and engineering vehicles for more than 100 years now. Actively participating in an event like this, Ford is helping build a strong foundation of human resources in India. Efforts made by the company, helping many prospective engineers and other developing students to learn from hands-on experience and to grow from one of the most exciting and educational opportunities of their lifetime is highly commendable.
Message
SAEINDIA has given a very good platform for all the Indian engineering students to showcase their talent by promoting this creative learning in the form of BAJA. We sincerely expect other teams to understand this and cash in the opportunity, in earnest, by participating in it with full zeal giving tougher competition to each other and taking the competition to the height that has yet not been attained anywhere else by the Baja maniacs. In short, let us make India the ultimate BAJA destination.
IAB Comment- Guys, we regret for keeping you waiting as a few of the other teams are yet to reply (an email from the Baja Authorities has been dispatched to those who haven't participated) and henceforth we decided to defer the original schedule.
After reading your write up, we find the handle bar type steering very unique and an interesting concept. None of the other teams in our knowledge have adopted this type.
Although your driver looks funny in orange (Pathetic fashion statement, we must say;)), he should be in a very strong position to take the team to pole with such a competitive and well-engineered car. We wish Team Ford Garuda all the very best. We feel the Baja fort can be captured very easily with a car like theirs.