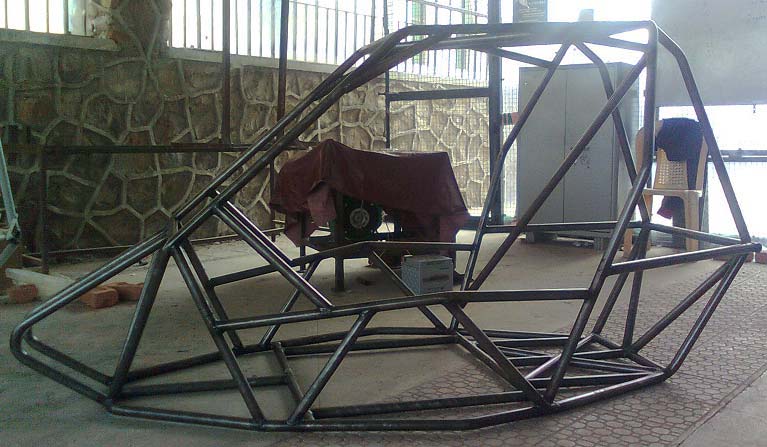 Name of the team: COOL RUNNINGS
Name of the University: CAREER INSTITUTE OF MANAGEMENT & TECHNOLOGY, FARIDABAD
Captain's name: Abhimanyue Bhagat
Faculty advisor's name: Devendra Vashist
Team members
NAME                 YEAR OF STUDY   DEPARTMENT
Abhimanyue Bhagat         4th Mechanical
Sonali Khosla                   4th Mechanical
Ankit Goyal                     3rd Electronics & Communication
Brijmohan Jain                3rd Electronics & Communication
Mayank Jain                    3rd Electronics & Communication
Praduman Aggarwal        2nd Mechanical
Puneet Moun                  2nd Mechanical
Parinita Baruah               2nd Mechanical
Anuj Kashyap                 2nd Mechanical

Specification of our car
The team strictly followed an actionable plan with established targets to build the perfect ATV keeping the five basic design parameters namely durability, acceleration, traction, maneuverability and speed in mind. Most of the components were designed and manufactured to complement an ATV weighing 320kgs as the market catered to cars weighing above 1000kgs only.
External front swing arms and rear trailing arms were designed to enhance rider comfort through increased suspension travel. ATV tyres were selected to achieve better traction while a chain drive ensured maximum torque output without sacrificing on the vehicle top speed. Since the vehicle is very light in weight, thus using a rack and pinion system would be the cheapest and the best option. We have come up with an innovative self designed steering geometry which would solve the purpose of effective steering and would be compatible with our design of the front suspension system. This new system would have all linkages from the outside of the wheels instead of inside as done in ordinary steering systems. Also to minimize the lateral stresses in the steering links we decided to use cables in place of rigid links to steer the vehicle. Incorporation of a 4 discs along with a cross?linked brake circuit resulted into an efficient, durable and safe ATV.
Steps adopted for the sake of weight reduction
A considerable weight reduction was achieved through good designs and optimum pipe selection for the roll cage. The steel tubes for the Roll Cage were decided after several iterations were performed to select a tube with outside diameter and wall thickness that would yield in best possible weight reduction. Majority of the components like the hubs, knuckles, swing arms, wheel axles, etc were designed and manufactured to reduce the maximum weight without decreasing the strength. The efforts made by the team to improve every single system on the ATV resulted into an extremely safe, light and durable vehicle weighing only 250kgs.
Special features of our vehicle
Design of all the components have been tested for their structural strength, bending stiffness, torsion stiffness, etc. according to the requirement of the systems. We have coupled meticulous research augmented by extensive calculations with out-of-the box thinking which has propelled several innovations. Innovative external front swing arms and rear trailing arms result in increased driver comfort. An exhaust system with a catalytic converter will effectively control and reduce noise and air pollution. The design of the roll cage, adequate clearances, body works and safety features of the ATV would surely help us in garnering some additional points.
Sponsorship details
The ultimate goal of CITM is the success of its students and it's because of this goal that it has readily agreed to sponsor its first ever BAJA SAE INDIA team. CITM has extended full support to us students, so that we can pursue our goal of participation in this event without any obstacles.
Career Institute of Technology & Management
Sector-43, Aravalli Hills, Surajkund-Badkhal Road
Faridabad, Haryana
CITM website: www.mrei.ac.in
Contact person: Mr. M.K.Soni
Director, CITM
Ph.0129 4198100
Email address: citm@mrei.ac.in
The experience of designing and fabricating the BAJA vehicle is a tremendous opportunity and an excellent platform for honing real world engineering skills to achieve automotive excellence.
IAB wishes team Cool Runnings from CITM, Faridabad the very best with the competition. Thank you for your participation on Indian Autos Blog.