Hyundai Motor India's first and only manufacturing facility, yet, in Chennai makes close to 1,000 variants of the company's 10 models. Over 6.3 lakh units are made each year and sent across to 120 countries and sold domestically as well.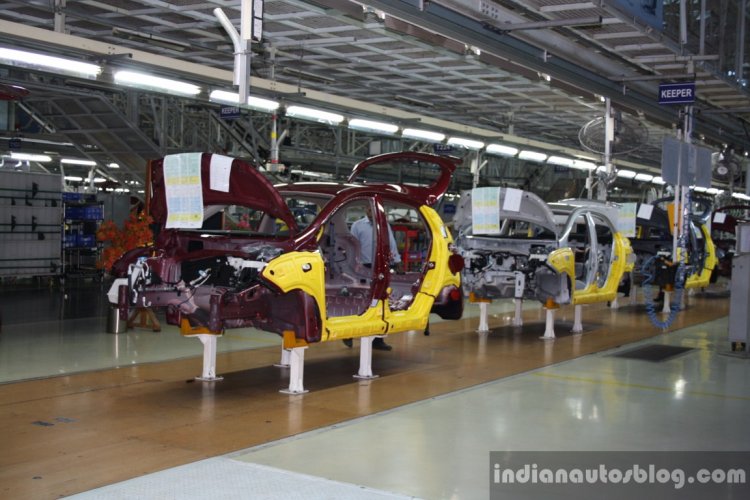 The manufacturing process takes us through various sub-processes like stamping, welding, fitment, etc. Hyundai's Chennai plant consists of two fully integrated manufacturing facilities. While Plant 1 makes models like the Elantra, i20, export-spec Accent, Santro and assembly for CKD models like the Sonata and Santa Fe, Plant 2 makes high volume models like the Verna, i10, Grand i10 and Xcent.
Apart from the two plants, the 535 acre site that Hyundai sits in houses various utilities like a sewage/water treatment plant, 4 rain water harvesting natural ponds, a stock yard, one test track for each plant among other things. The water treatment plant recycles all water used in the plant and has a zero discharge policy. The sludge from the paint shop is sent to local cement manufacturers.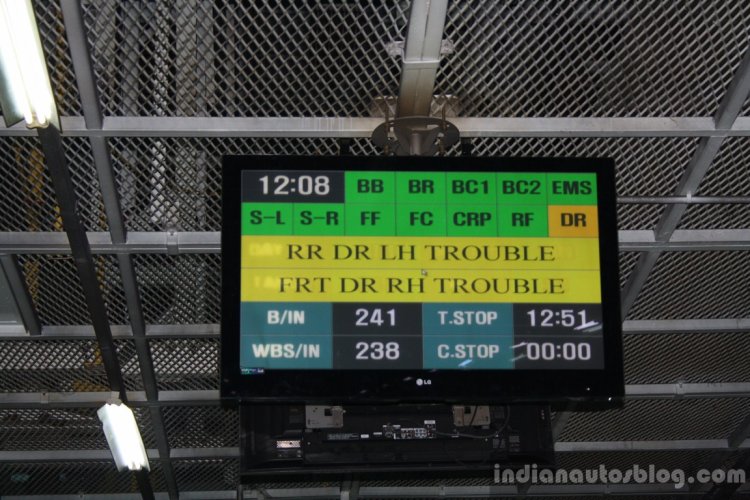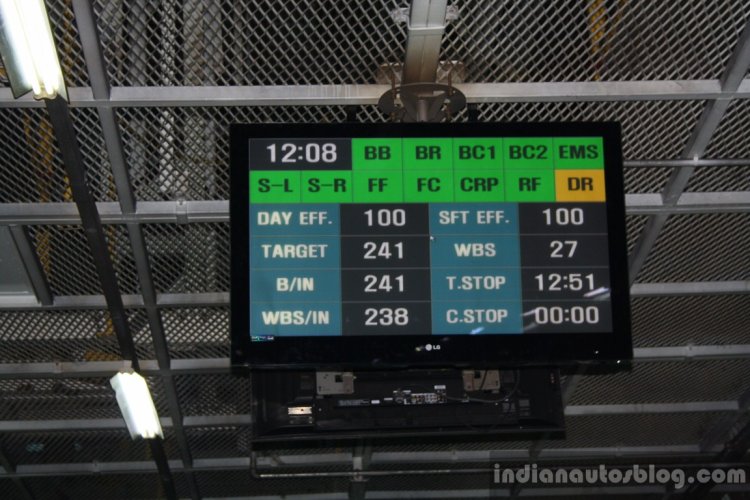 The plant by itself is divided into a body shop, paint shop and assembly shop. The paint shop is a sensitive area where even a single speck of dust can cause massive problems. Hyundai's tour of its factory that was held on Tuesday was restricted to the body shop and assembly shop of Plant 2.
For the Hyundai Xcent, for instance, Hyundai's module-based assembly system sees various modules like fuel and brake tube, crash pad (dashboard), rear bumper, engine and transmission, front suspension module, muffler, rear chassis module, front-end module, fuel tank, intake system module and finally the wiper module.
Stamping
When fresh coils of steel is unwrapped, it is a flat stream of steel sheets that is cut and fed into huge casting machines that make body panels. These panels, like doors, boot lid, roof and rear structures are then sent over to the welding area.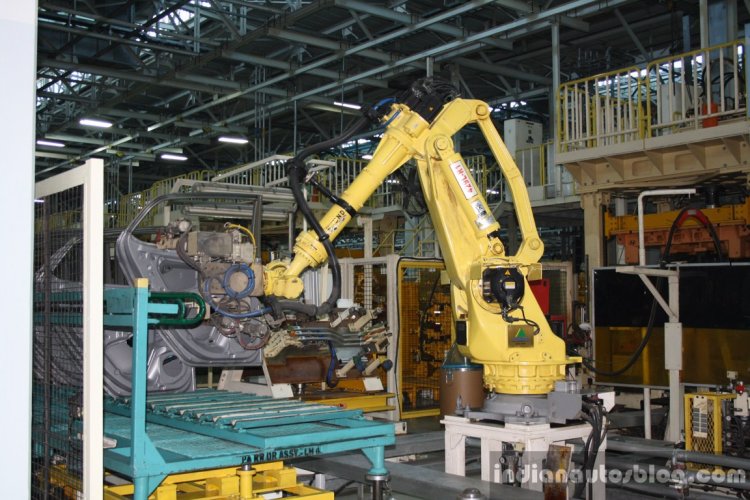 The Plant 2 uses highly automated welding processes. Robots undertake both spot welding and CO2 welding. Areas where robots can't access are welded manually.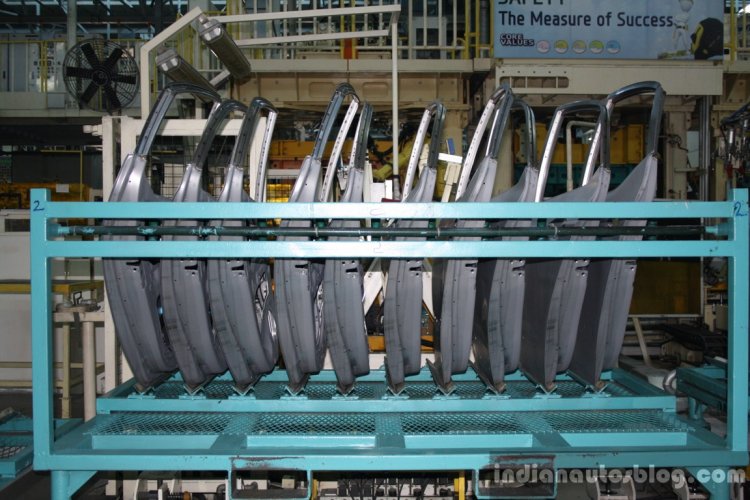 A total of 5,059 welding spots are made in plant. While 4,082 of these spots are welded by robots, 53 are welded using automated guns and the rest 174 consist of CO2 and Brazing welding which are done manually.
After the welding is done, doors are checked for gaps and flushes and sent straight to the paint shop.
Under-body assembly
Fresh from the paint shop, the body has lost its doors. The car is now put on an assembly line where workers flock around it to install various items like seat belts, taillights, wiring loom, dashboard, interior panels, boot lid openers, etc.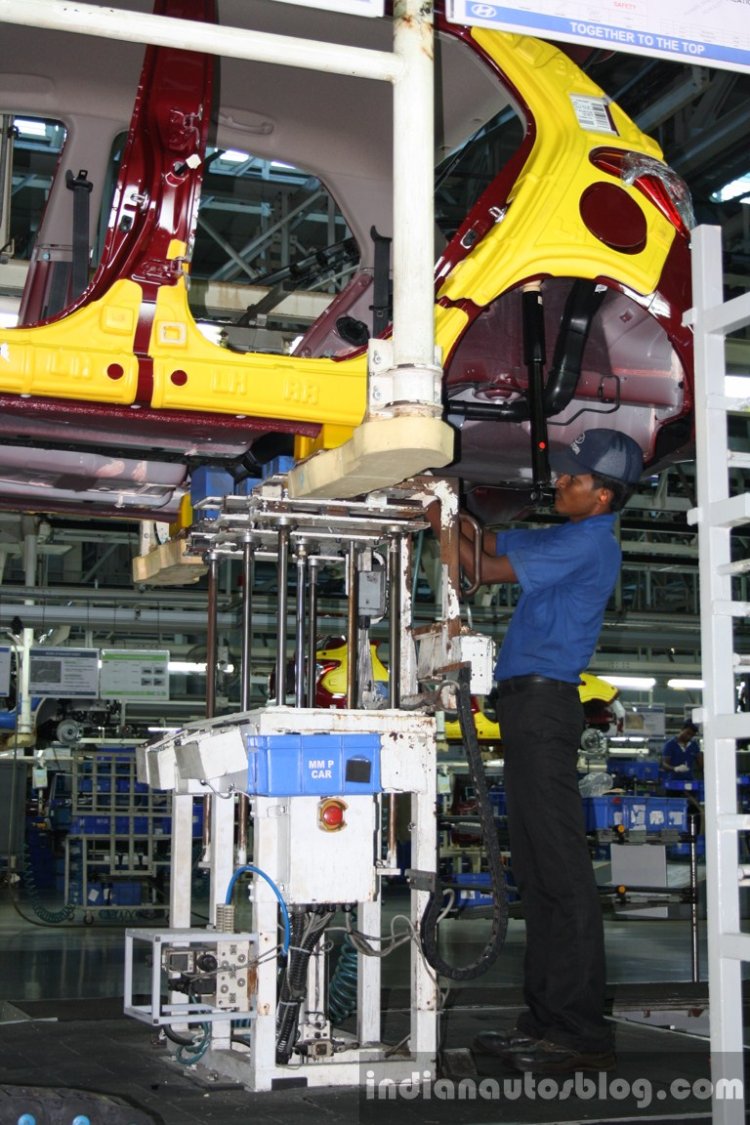 After this, the car is taken in an overhead conveyor belt and lowered into a second assembly line where the marriage takes place.
'Marriage'
Here, the chassis and the powertrain are brought together for the first time. Hyundai's powertrain comes assembled from its suppliers. The factory has no sub-assembly - where parts from vendors are put together before added to the car on the assembly line - going on at any stage.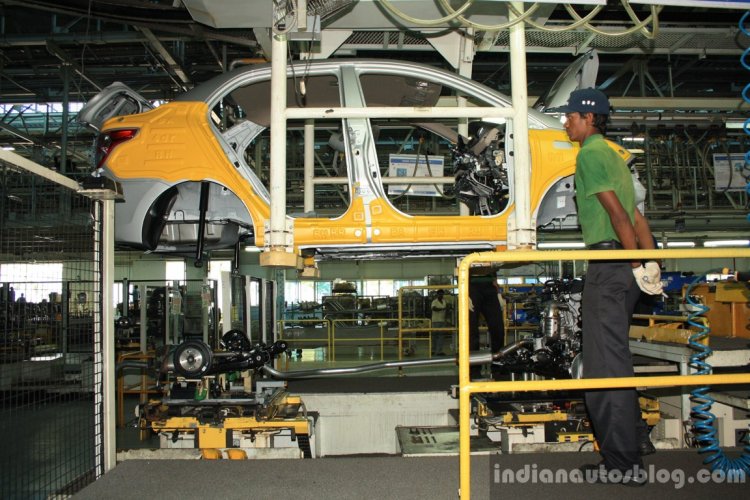 While an overhead conveyor brings in the chassis, another conveyor from below brings the powertrain. Workers simply need to bolt in the powertrain in certain pre-determined positions before sending it on to the next phase.
Seats, wheels and lights
Now close to its final rollout, the essentials like seats, wheels and headlamps are attached. All through this, a person consistently checks for quality.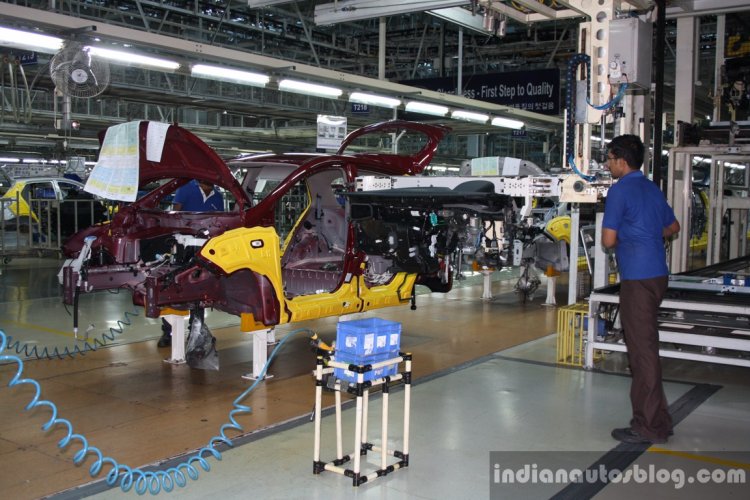 For instance, a worker latches on a round magnet to the section where the door closes to see if the gaps and flush are consistent. If not, an old-school hammering does the trick.
Inspection
Hordes of workers zero in on the almost-complete car and conduct various tests, ranging from door closing sounds to final wheel bolting to gap-checks.
After this inspection, a worker drives the vehicle straight into the 'Pre-delivery inspection' area.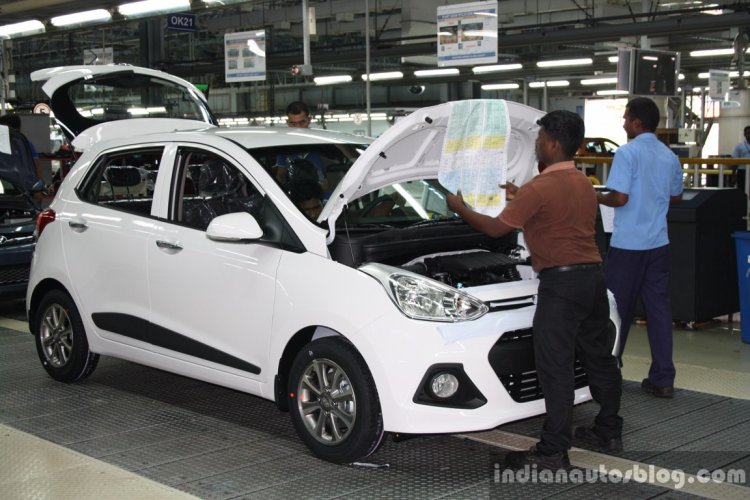 Immediately after the vehicle comes out of the paint shop, a sheet full of codes is pasted on its bonnet lid. This work sheet is like "An ID card for the car." It contains information for the workman. It contains what Hyundai calls ALC - Assembly line Control Code. Here is where the worker knows where the model he's working on is going to be sent to.
With various countries needing various parts to meet regulations, the sequencing of parts is a logistical nightmare. Hyundai deals with the Just-in-Sequence work model.
Here, vendors are made aware of the company's production schedule months in advance. Long-term plans are frozen 3 months in advance by Hyundai, with weekly and daily plans also being made. When a plan is finalised upon, it is shared to the vendor who then proceeds to make the required part. These parts are arranged in the sequential order and sent straight to the assembly line. Hyundai uses RFID tags to check if the sequence is right at various junctions like vendors' gates, factory gates, parts centre, etc. Thanks to Hyundai's manufacturing information system, both Hyundai and its vendors can see which part is being loaded into the car at any moment.
Hyundai's factory also has a high output rate, what with the constant demand. Plant 2 makes 53 Units Per Hour (UPH), which means every 68 seconds a car is rolled out. The maximum UPH plant 2 can achieve is 60.
Plant 1 runs at 50 UPH. This is because Plant 1 consists of units that are made both out of CKD kits and the regular way. Hence, this plant is divided into three assembly lines. Assembly 1 (or A1) makes the i20 and the Santro, standing at 38 UPH. A2 on the other hand makes the export-spec Accent, Elantra and Sonata. This churns out 8 UPH, mostly due to the complexity and the demand. A3 makes the CKD units like the Santa Fe, churning out 1.5 units each hour.
Despite the complexity and mammoth task of producing 6.3 lakh cars a year, Hyundai's lines are made in such a way that there's always 1 more model it can accommodate in any line, before more permanent changes are made.