These images of the Hyundai Veloster parked in what appears like a dealership entrance in Delhi was posted by our Facebook fan Vaibhav ShouryaVeer Gupta.
The Veloster Coupe's presence in India is not breaking news as the car was unveiled at the Delhi Auto Expo this year. Hyundai has not outlined plans to launch this model in the Indian market though there are plenty of speculations in the media circles that Hyundai is studying the market with the intention to introduce it under 20 lakh rupees.
The Veloster need not be a volumes mopping model, but a halo car like what the 370Z is to Nissan or what the Beetle is to VW India. It also presents a chance for Hyundai to show India what it means by sporty or fast. Hyundai has tried before in the past, bringing the Genesis Coupe to the 2010 Auto Expo. A RHD model is a must for Hyundai to sell these off-beat cars in India.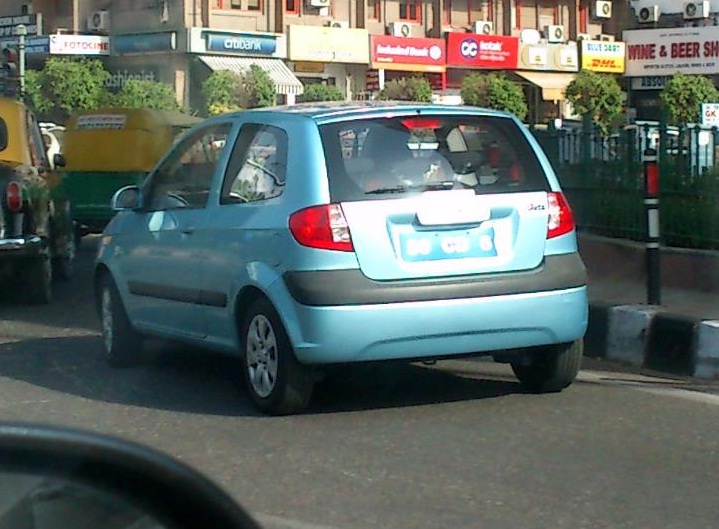 It is not an uncommon sight to see Hyundai models on Indian roads that aren't available locally. We have seen members of the Indian Hyundai management travel in a previous generation Azera/Grandeur. Our reader on visiting the Hyundai plant in Chennai recently spotted a H800 van that is used to ferry staff over short distances.
These models were spotted wearing the usual registration plates and are not test mules. Hyundai's three-door i20 has also been spotted around the country by our readers and some officials of a visiting delegation or belonging to an international organization in Delhi travel in a three-door Hyundai Getz.
Even without thinking twice, I can assure you that the question coming from every passerby at this Delhi dealership would be "when's the diesel coming?"
;-)
Image credits -
Hyundai Veloster - Vaibhav ShouryaVeer Gupta
Hyundai Azera - IAB's Delhi representative Shakti Budhiraja
Hyundai Getz three-door - Siddharth Shankar