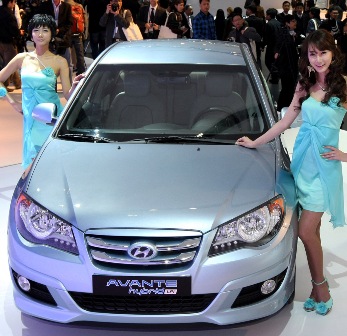 Hyundai is very obsessed with Blue (the new name for 'Green') cars these days. Keeping with the same theme, the Korean automaker showcased Avante/Elantra LPI Hybrid - The World's first Liquified Petroleum Gas (LPG) powered hybrid car, in Korea.
Apart from being the world's first LPG powered hybrid car, the Hyundai Avante/Elantra LPI is also the World's first mass produced vehicle that uses an advanced Lithium Polymer battery pack.
Lithium polymer batteries pack more energy than lithium–ion batteries of the same size, cost less, are smaller & lighter and can take more number of charge–discharge cycles compared to conventional Li-Ion batteries.
The Elantra LPI hybrid runs on a LPG fed Four-cylinder 1.6 Gamma engine and a 20HP electric motor, both connected to a CVT gearbox. Hyundai says that the Elantra LPI will have 50% lower running costs compared to the regular petrol model and more importantly will have lower emissions - 103 g/km of CO2.
The Hyundai Elantra LPI hybrid will go on sale in Korea from July '09
Source: Hyundai Blog