Plug-in hybrid and all-electric variants to follow later.
The Hyundai Ioniq, first dedicated hybrid car from Hyundai, has arrived in South Korea. The front-end is yet to be revealed officially, but we do have the first look at the petrol-electric variant's side profile and rear-end and the interior. The tapered roof line, small window panels and a high-positioned rear-end give the Ioniq hybrid a true-notchback styling.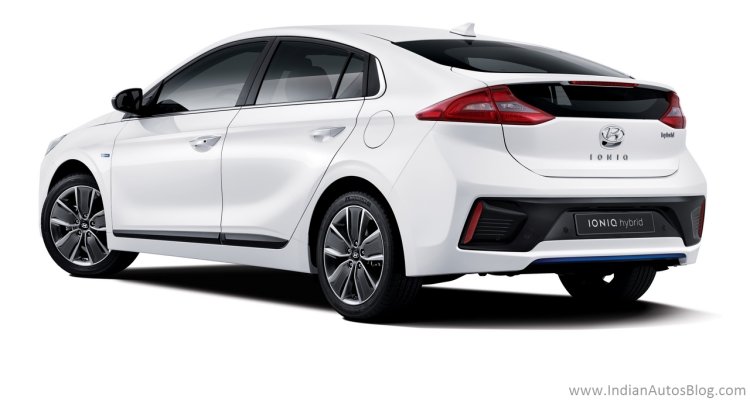 Design and styling aside, there's lots to be known about the Hyundai Ioniq hybrid's technical aspects. It's based on a newly-developed bespoke platform that is capable of plug-in hybrid and all-electric variants as well. The company has taken weight saving measures to keep the eco-friendly car as efficient as possible. 53% of the body is made of Advanced High Strength Steel (AHSS) and there's also usage of lightweight aluminum. Other elements such as hood, tailgate and suspension components (front-wheel lower arm, front-wheel knuckle and rear-wheel carrier) are made of aluminum instead of steel, and this helps save 12.6 kg or 45% weight figure compared to using steel.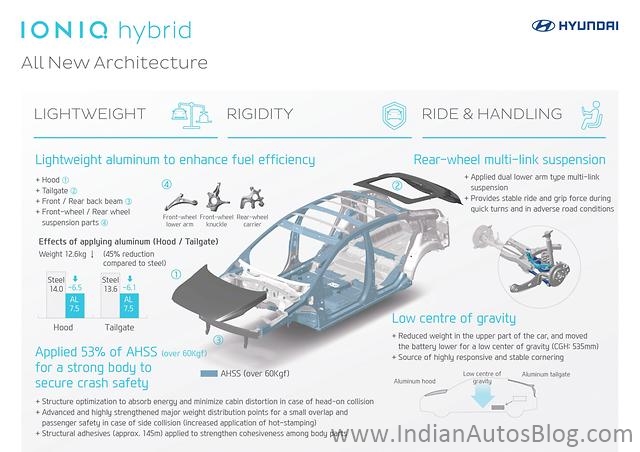 Ride and handling has also been thoroughly focused on. Apart from employing a dual lower arm type multi-link suspension at the rear, another measure has been taken for the same. The batteries have been positioned low and forward to achieve a low centre of gravity, aiding in more responsiveness and better cornering.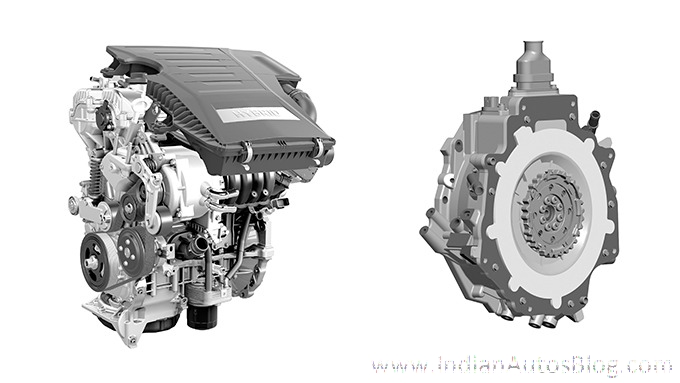 The Hyundai Ioniq's hybrid system features a combination of a 1.6-litre Kappa GDi naturally aspirated four-cylinder petrol engine that produces 105 PS (104 hp) and 15.0 kgf-m (147 Nm) of torque, and a permanent magnet electric motor that generates 43.5 PS (43 hp) and 17.3 kgf-m (170 Nm) of torque. The hybrid system produces a maximum output of 152 PS (150 hp) and sends power to the wheels via a newly-developed 6-speed dual-clutch transmission that has a "class-leading" power transmission efficiency of 95.7%. Also class-leading, is the world's highest thermal efficiency of the Kappa engine - 40%.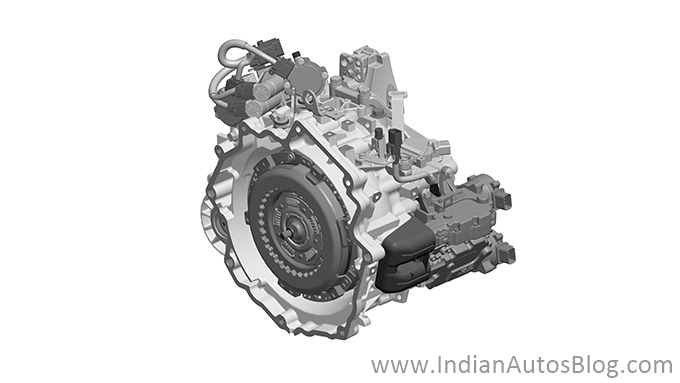 Stepping inside the car, the cabin has been designed to give a very distinctive appeal to remind that it's different from rest of the mainstream models. There's a D-cut, flat-bottom steering wheel that shows hybrids can be sporty too, as well as blue accents on the seat covers, dashboard, steering wheel and other elements reflecting that the car is a part of the brand's 'Blue Drive' strategy of green cars. The instrument cluster has a 4.2-inch/7-inch colour LCD screen and the audio/infotainment system has been given a 5.0-inch/7-inch colour LCD screen. BlueLink 2.0 infotainment system with 8-inch display is available as a part of an optional package. There's no speak of Apple CarPlay or Android Auto as of now, but we do know wireless charging is included in the equipment list.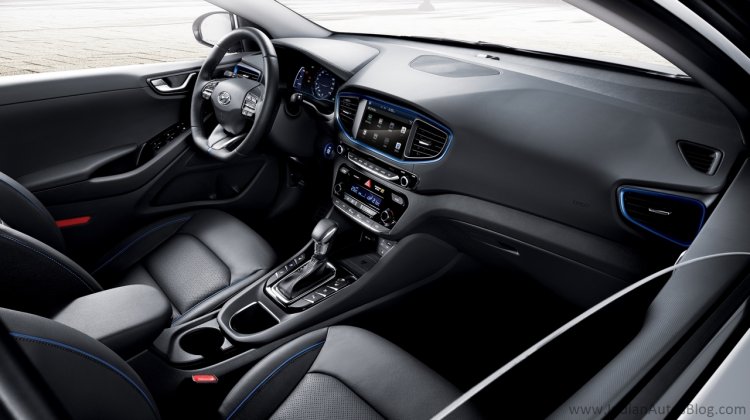 Safety and assistance features of the Hyundai Ioniq hybrid include 7 airbags, Electronic Stability Control (ESC), Vehicle Stability Management (VSM), Hill-start Assist Control (HAC), Emergency stop signal (ESS), Tyre Pressure Monitoring System (TPMS), Automatic Emergency Braking system (AEB), Lane Departure Warning System (LDWS) and Blind Spot Detection system (BSD).
Also Read: Hyundai i20 Sport with 1L turbo-petrol engine launched – Germany
Following its world premiere in Korea this month, the Hyundai Ioniq will have its European and North American premieres at the 2016 Geneva Motor Show and the 2016 New York International Auto Show respectively in March. It will be available in five trim levels in South Korea - I, I+, N, N+ and Q.
Hyundai Ioniq - Prices (South Korea)
Hyundai Ioniq I - 22,900,000-23,200,000 Won
Hyundai Ioniq I+ - 23,900,000-24,200,000 Won
Hyundai Ioniq N - 24,900,000-25,200,000 Won
Hyundai Ioniq N+ - 26,200,000-26,500,000 Won
Hyundai Ioniq Q - 27,500,000-27,800,000 Won