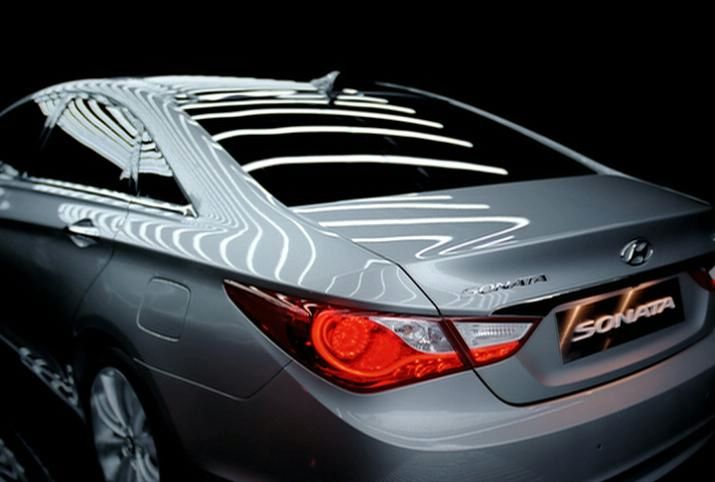 Images of the 2011 Hyundai Sonata has leaked on to the internet. Expected to come with i40 badges in Europe, the i40 is arguably the best looking Hyundai to this date.
Its profile is somewhere in between a sedan and a coupe. Inspired by the sexy Mercedes CLS, you can't point out one design element that's common between the two. In India, the i40 will take the Accord-Camry segment to an all new level. If they price it in the Laura-Jetta segment, it is so going to be a steal for that price.
The 2.4 liter Theta II engine with GDI (gasoline direct injection) technology produces about 200 hp. A 2.0 liter petrol engine should be powering in the entry-level model.
Whether or not the 2.2 liter 'R' with 204 hp and the Euro 5 emissions standards busting diesel engine will make it to India is anyone's guess. Even a Lambda V6 engine giving out about 250 hp is in the rumor mill. This could be a perfect candidate to eat into the Skoda Superb V6' and Honda Accord V6' pie.
6-speed manual or automatic transmissions will be available. A level of equipment is going to be up there - panoramic glass roof, stop-start technology and paddle shifts on the steering wheel will be bestowed on the new Sonata.
The Hyundai Sonata YF/i40 goes on sale in Korea in October andh in the North American and European markets by early 2010.
Press Release
Hyundai Motor Begins to Take Pre-launch Orders for YF (Sonata)
(Sept. 1, 2009) Hyundai Motor Company is ready to start taking orders tomorrow for its all-new Sonata, codenamed YF, ahead of the car's official launch Sept 10th in the Korea domestic market. In replacing the NF Sonata which was launched in Sept. 2004, Hyundai decided to retain the Sonata name as the mid-size car has been Korea's perennial best-seller.
The new Sonata is fitted with a 6-speed automatic transmission and delivers gratifying performance through its 2-liter Theta II gasoline engine. Delivering 12.8 kilometers per liter, it achieves the highest fuel economy in its segment. In addition, safety has been upgraded with Vehicle Dynamic Control now supplied as a standard feature.
*VDC : Improves the safety of a vehicle's stability by detecting and minimizing skids.
The overall comfort has been enhanced through a variety of new technologies and premium specifications such as a panoramic sunroof, gear shift paddles attached to the steering wheel, and a push-button starting system.
The rendering preview features coupe like body style and exudes a dynamic image. The front side communicates an image of strength through a wide radiator grill and sharp-edged headlamp.
The flowing coupe-like lines of the new Sonata eloquently express Hyundai's "fluidic sculpture" design language, a new design direction that will play a pivotal role in enhancing the brand. Hyundai is confident that the new Sonata, equipped with the company's latest technologies, will continue the long string of successes earned by Sonata over the years.
Since the launch of the very first generation Sonata in October 1985 in Korea, 4.45 million units of Sonata have been sold worldwide. In 2004, Sonata earned the highest ranking in J.D. Power's Initial Quality Survey in the Entry Midsize Car category.