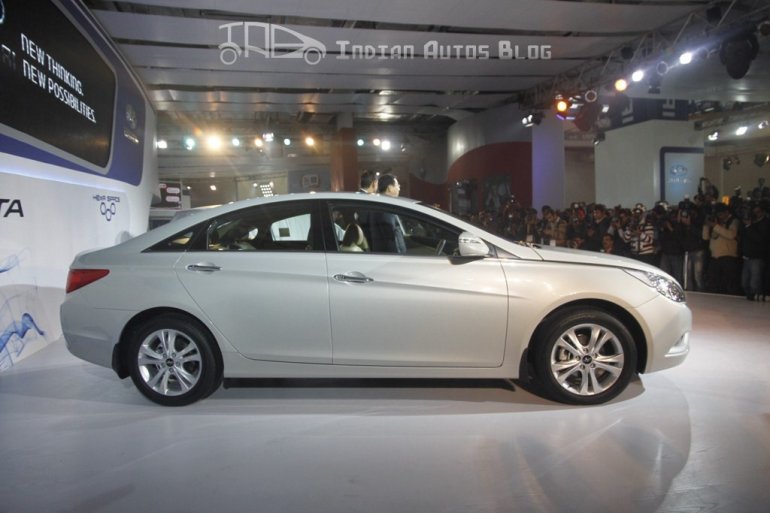 Hyundai India has uploaded the brochure, photographs and general information on the new Sonata on its official website. The details provide an in-depth look at the D Segment sedan that was unveiled at the Delhi Auto Expo in January.
The Sonata will finally be launched in early March with a 2.4-liter GDI engine producing 201PS and 255Nm. It is paired to either a 6-speed manual transmission or 6-speed automatic transmission. It stands on 17 inch alloy wheels equipped with disc brakes on all four corners. The Sonata is offered in India in white, silver, brown and black. No we did not miss talking about the diesel engine because there isn't one.
The Sonata features cruise control, paddle shifter, 10-way adjustable driver seat, keyless entry and auto headlight control.
Since the time we began this website, Indian Autos Blog readers have been treated to a constant dose of information on the new Sonata (referred to as the i45, fluidic Sonata and Sonata YF at different stages of its development). Believe it or not our first set of spyshots of the model testing in Korea was posted here on August 8, 2008 when we were into our second week of blogging!
Throughout these last four years, we've covered every aspect of its development and asked readers many questions on its positioning, price and the inclusion of diesel engine technology. Our readers were kept abreast with the model even after its international launch through postings on the minor cosmetic revisions, new engine options, spyshots from near the Chennai factory, Hyundai India CEO' comment on the local launch and finally completed the package by bringing details and photographs from the Auto Expo unveiling before everyone. Not to forget that we had Shoeb produce renderings based on the spyshots back in the day. In all, we did about 50 posts on the new Sonata.
Check out the brochure attached below to get the entire list of features.
Hyundai Sonata India brochure