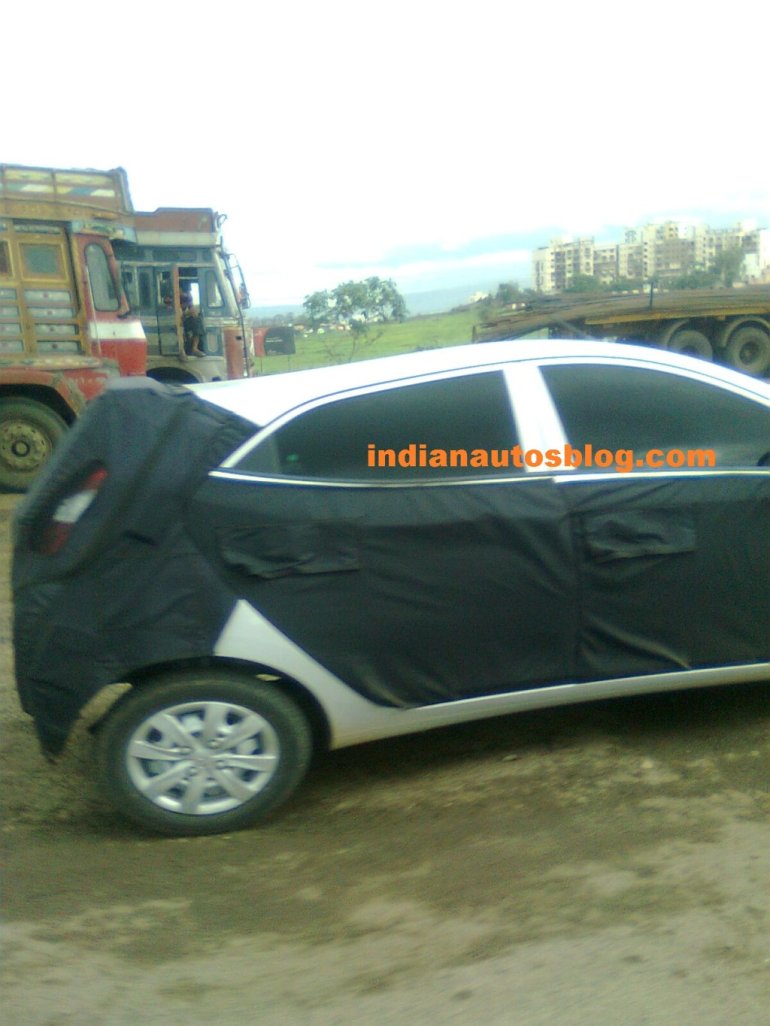 This article is purely speculative. The HA could end up on the market during this festive season and these details will be clearer as we draw closer to D-Day.
It is no secret that Hyundai is aspiring to eat into Maruti's market share one step at a time. They have three sub-4 meter long hatchbacks and the fourth is completing the final leg of development as we write this. IndianAutosBlog.com has brought you a close-up spy shot of the HA's rear and today we're presenting some more details of the Alto challenger.
This is an IndianAutosBlog.com exclusive -
1) The top-end HA will come with beige interiors, air conditioning (4 speed) and power steering including a two tone dashboard.
2) The material quality, fit and finish will be in the i10 territory. Hyundai HA could have class leading interiors. It has not opted for the centrally mounted instrument cluster.
3) The dash has a tray mounted above the glovebox, like the Figo, to store nick-nacks.
4) The top-end model, like the i20, will have CD/MP3/USB playing capability. The buttons will be arranged in a V shape and finished in grayish silver. This is a segment first.
5) The air conditioning control knobs will be a dial type (read like i20). Hyundai has not opted for the twist type found on the Santro.
6) Unlike the i10, the HA will have height adjustable head rests for front seats and integrated head rests on the rear.
7) Coming to the instrument cluster, it will be a three-dial layout with the speedo in the center, engine temperature on the left and fuel quantity on the right. Apart from the speedo, both dials (or read outs) will be digital.
8) Unlike the Tata Nano, HA will have two windshield wipers at the front.
9) Like the i20, HA could have an EPS for better fuel efficiency.
10) It will sport the i10's steering wheel which is carried over to lower i20 variants.
11) Like the Ford Figo, the front windows will be electrically powered. The rear windows will have to be manually operated on all variants.
12) The angle of the rear windshield will generate a wee bit of extra boot volume.
13) The junior i10 could debut by the end of October.
The HA has all ingredients to be a killer product and is better than Santro in every department. Surely this massive effort to dethrone the Alto one unit at a time is exciting news for the Hyundai fans.
What are your thoughts on the Hyundai HA?