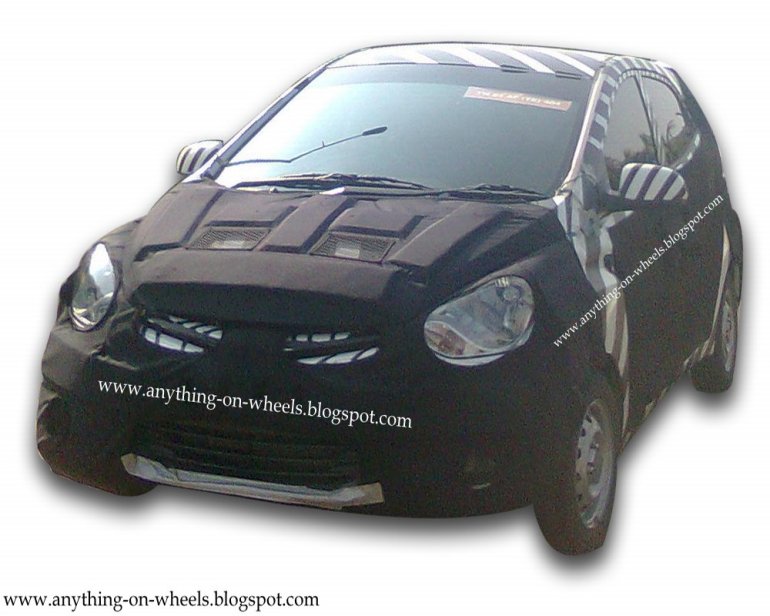 The blogosphere is swarming with news of a possible year-end launch for the Hyundai HA (codename), a 800cc hatchback that will sit under the Santro. The HA will sport a new design which Hyundai hopes will attract Alto and Nano customers. Using a 3cyl engine producing about 50 bhp, the HA gets a 5-speed manual transmission. Overlap with select Santro variants will be unavoidable but we're told the Santro will stay in production even after the arrival of the HA. We're not going to see a diesel engine on the HA, but alternate fuels like CNG and LPG are likely down the road.
We don't have a clear idea about the car's shape as Hyundai uses heavy camouflage on the mule. Reader Sarun who snapped spyshots did tell us he was looking at a car combining the i10 and Santro's design. The overhangs will be tight and the car will be shorter than i10.
What will Hyundai call this car? As it has no history like Verna or Elantra and is at the price point of Alto, should it be called i5 (many Hyundais have multiples of 5 on nameplates)? Or will Hyundai go for a traditional naming methodology? Three popular cars at the bottom of the pyramid have register-friendly names ending with "o" (Santro, Alto, Nano), so maybe then Mahindra can help ;-)
We dug into the international Hyundai model range and felt Excel, Matrix (our pick) and Stellar were names Hyundai can use for the mini HA in India if they have the rights to do so.
Do you have any suggestions for Hyundai's branding team?
Image Credit - Anything-On-Wheels.Blogspot.com