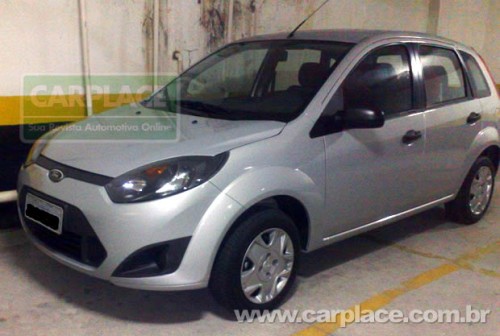 Thanks to our pal at Carplace Brazil, we're able to bring you spy shots of the facelifted Ford Figo (known as Fiesta in Brazil) spied in a parking lot.
We've not heard any complaints with respect to the Ford Figo's styling. But then as humans with evil tendencies, we'll manage to pin-point something. One form of media published Ford didn't execute the Kinetic Design language thoroughly, from bumper to bumper.
As the Figo is a refurbished Mk 5 Ford Fiesta and built to a low price, Ford couldn't stretch the design beyond a point. Overall it was a good job by Scott Strong and his team.
You'll appreciate the design team's effort only after you glance at this hideous thing which Brazilians will buy as the facelifted Ford Fiesta later this year. This could beat the Hyundai Accent/Elantra to the line as the worst possible model refreshment of 2010.
Was the man behind the facelift of this vehicle teaching geometry in China to primary school children before he got picked up by Ford? I see a hexagon, rhombus and ellipse on its front-end. He's perfectly executed it to make it look exactly like a Chinese copy car.
How many shapes, figures can you spot?
Source - Car Place