The Honda Mobilio was unveiled at the Indonesian auto show earlier this month and here's an enthusiast video from Youtube. User Salim Wibowo has made a low-resolution video walkaround of the car. This is the first time we are getting to see the car on film as Honda hasn't released official videos from the show.
The Mobilio may look like an Amaze or a Brio from the front, and that's no coincidence. The MPV is based on the Brio platform and was developed by Honda's engineering teams in Indonesia and Thailand to meet the low price MPV demand in ASEAN countries and India.
[Head to YouTube if you're unable to watch the video above.]
The Mobilio's wheelbase which stands at 2,650mm is 245mm longer than the Amaze. While the Amaze ducks under the 4m overall length barrier, the Mobilio measures an Ertiga-matching 4,390mm. Unlike the other two relatives, the roofline and the car, with a 185mm ground clearance, is 105mm taller than the Amaze.
Indonesia would be the launch market for the Mobilio. The car would be made at Honda's new plant in West Java from next year onwards with a 1.5-liter petrol engine. Manual and automatic gearboxes would be available. When the car launches in India at a later stage next year, it will have the 1.5L diesel option too.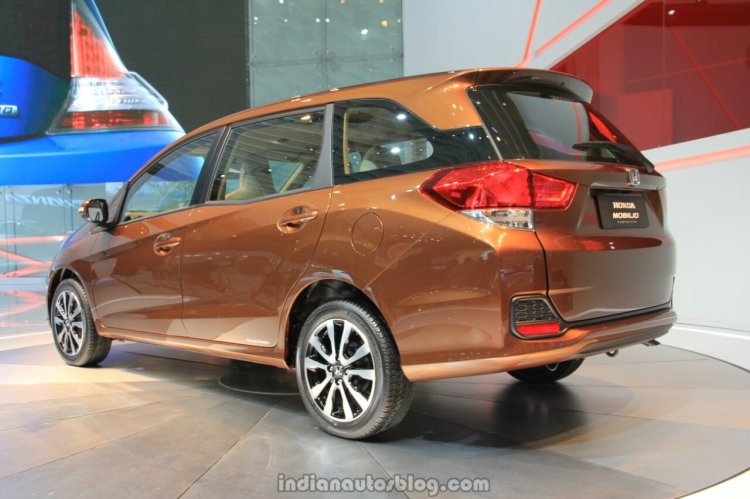 There is a lot of commonality between the Amaze and the Mobilio in the interior department. The  dashboard is a carryover and so are the bucket seats. You can note from the video that even with the three rows of seats taking their usual places, there's a considerable level of luggage space.
We expect the Mobilio to be present at the Auto Expo in Noida next year.