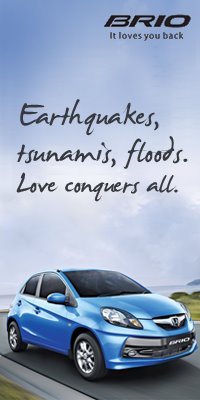 Honda Siel Cars India has announced a '5 Lac Celebratory Offer' for achieving a milestone of selling 5,00,000 cars in India. This is a very special moment for the brand as only recently did they begin selling a car in the lower end of the B Segment.
The company does not have any diesel cars either making the majority of these 5 lakh customers, premium buyers.
Honda wants to thank its customers and offer smiles to the those joining the family. To achieve this customers of Brio, City and Civic get car insurance at just Re. 1 as well as other offers. Brio and City owners get the added benefit of an extended warranty for 3rd and 4th year and a 4 year road side assistance cover.
Benefits on the Honda cars to celebrate 5 lakh customers
Accord: Rs. 1,25,000
Civic: Rs. 85,000
City: Rs. 35,000
Brio: Rs. 24,000
Honda is facing a hard time with increasing petrol prices. They've just stood up after natural calamities rocked them twice last year. The recent petrol price hike in India has made the customer move away to diesel powered cars, which affects Honda sales as they do not have even a single diesel car.
These discounts and benefits might help the company push off some of the stagnated stock but they need a strong diesel strategy in place and that means offering a diesel option on every one of its cars.