In an email sent to Honda dealers from USA to give information on the Accord CrossTour model, the company has hinted at the upcoming 2012 CR-V.
Rumors suggest that the new CR-V (codename 2WS) will be a full model change (FMC) and will come with a revolutionary, all-new 4-cylinder engine with a larger displacement and around 180 - 220 horsepower to play with.
In India, the CR-V is offered with a 2.0-liter petrol engine that is a 2WD variant a 2.4-liter engine with AWD. Both manual and automatic transmissions are on offer.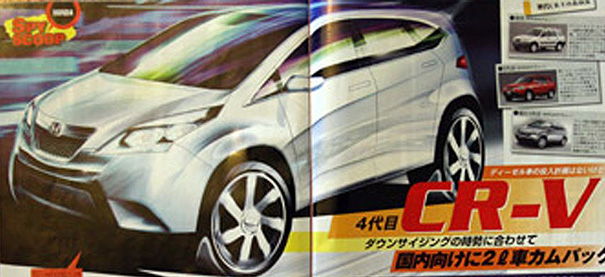 Honda is also expected to drop in a 2.2L turbo diesel that is currently available now in the European market. The powerhouses will be mated to a five-speed automatic or manual transmission system. The new CR-V will be of the dimension 4,535mm x 1,820mm x 1,685mm as opposed to the current model's 4,575mm x 1,820mm x 1,680mm (L*W*H respectively).
Looking at the current trend, we don't expect the new CR-V to have any adventurous styling but we do expect a host of additional features and improved fuel economy. The much expected debut should be around October 2011 at the Tokyo Motor Show.
If the CR-V needs to survive in current Indian Market, it needs to have a diesel option. The current model has taken a substantial beating because of the lack of it. @Honda: I hope you are listening ;)
Source - vtec.net