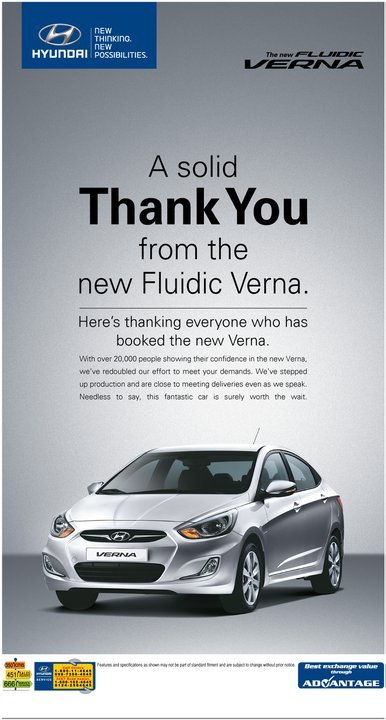 Feeling the heat from VW Vento, mid way through the month, Honda Siel slashed the prices of the Honda City by Rs 44,000-66,000 depending on the model. The move seems to have been worked in favor of Honda, although only marginally.
In May, the Honda City only sold 1,828 units whereas the arch rival Vento sold 2,403 units. However, things are a bit different this month as City has managed to ship 2,802 units and the VW Vento has only managed 2,457 units. So the Honda City may not have dented VW Vento's sales but has definitely hurt the SX4 (713 units) and Fiat Linea 350 units (no typos there).
However, don't jump for joy Honda boys as the City did not reclaim its top position in the C+ Segment. The title of the king goes to Hyundai Verna which managed to ship an astonishing 4,102 units in June. That's nearly double of what the nearest competitors have managed.
The Hyundai has managed to capture the fancy of the Indian market with its tonnes of features and rational pricing. It doesn't seem like the Verna would let go of its segment crown very easily as it has already clocked 20,000 bookings.
However, July will see the entry of a new contender – the Global Fiesta from Ford. The Fiesta is expected to create a shakedown in the now Hyundai dominated territory. Honda Siel, in its efforts to regain its top position, is planning to give the City a small facelift in the near future.
The B+ segment will see some insane action in the coming months as manufacturers will try to rationalize their products as much as possible to take on the Hyundai Verna. Hyundai has proved that the market does not want any marketing gimmickry. Indians are very intelligent customers and will always prefer a value proposition :)
And did we forget to mention that Nissan will mark its guard with the Global sedan/V-Platform sedan by December and Skoda's Rapid will debut in Frankfurt and roll out of the VW Group's Chakan plant during new year?