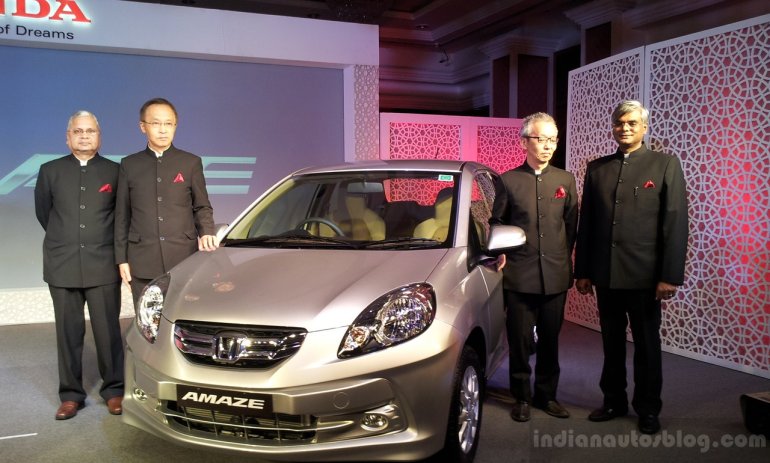 Mr. Jnaneswar Sen, Senior Vice President - Sales and Marketing at Honda was here in Chennai for the launch of the Honda Amaze and we slipped in a few questions which we've always wanted to ask. Here is what he had to say.
Q: Can you give us an idea about the number of bookings the Amaze has garnered so far?
A: I have no idea, I've no figures to share with you but all I know is it has got a very good response. It will take us some time to compile everything.
Q: Thousands of customers would have thronged your showrooms ever since the bookings for the Amaze commenced. So can you tell us which is the most preferred color?
A: Normally what we have seen is that our launch color initially does very well. For example in our ads, we are using the Majestic Blue Metallic. So I'm sure that this color is doing very well. Colors like white or silver are evergreen.
Q: What is the amount of localization you have achieved with the Amaze?
A: The level of localization is 90+%.
Q: How does the production split of the petrol and diesel variants look like?
A: Well as of now it's about 75% diesel. That's our initial production mix but since we make both engines in-house, depending on demand we can move either way. And either way is fine with us.
Q: The Brio and the Amaze share the same dashboard. So, do you sense an opportunity to impart some individuality to Amaze, perhaps by changing the color theme?
A: Well, color is a very personal preference. One of the things which we wanted to do with the Amaze was to price it competitively...commonization has played an important role in making it competitive. Of course we can make it (a different colored dashboard), but nothing comes free. It is very easy to design a fancy dashboard, but when it comes to price competitiveness we have to commonize.
Q: You are exporting the Brio to South Africa. Will the export volume of the Brio be affected due a strong demand for the Amaze in the domestic market?
A: As far as Brio for South Africa is concerned, we have a commitment to that market. We can't stop it just like that. It's not huge numbers anyway (300-350 units per month).
[Image: Photograph taken during the Mumbai launch of the Honda Amaze. Mr. Sen is standing at the extreme right]