The fourth edition of Honda's Drive To Discover recently concluded. In this edition, Honda wanted me to drive the Honda Amaze diesel along the Eastern Ghats, starting from Chennai and ending at Vizag. What follows is my experience of 1,000+km with this sedan that has literally 'amazed' its audience, and the brilliant and scenic roads India actually has to offer that is often overlooked.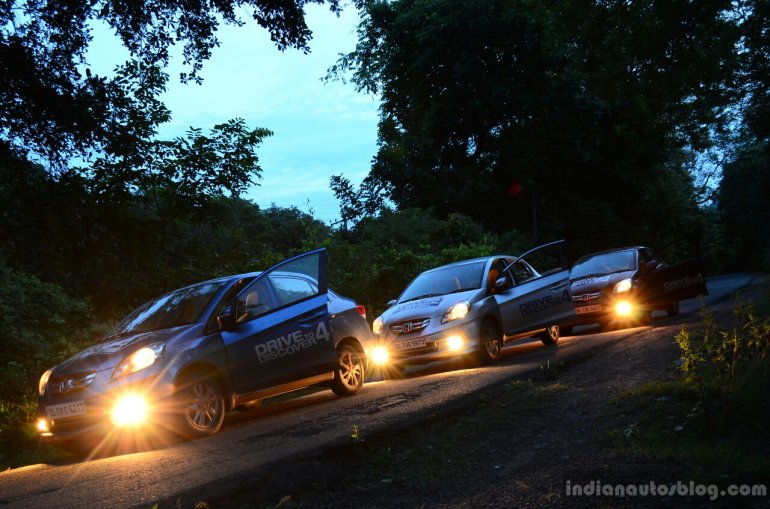 To put it in a nutshell, the following summarizes this edition of the Drive To Discover rather nicely:
"Two roads diverged in a wood, and I,
I took the one less traveled by,
And that has made all the difference."
- Rober Frost
The Trip
While Chennai to Vizag is a mere 890km according to Google Maps, our drive was much longer as we preferred to avoid the highways as much as possible. At the end of this post, I've attached a document with coordinates, which when inputted in your GPS would retrace the route we took.
I'm going to talk about 3 scenic places of this trip worth sharing.
1. Pichatur, Andhra Pradesh
To explore this place, we had to literally take the Amaze off-road over a rocky terrain. The terrain would definitely give a suspension workout for something like a Safari Storme or a Bolero. Watching one of the Amazes, which was in front of me tackle the roads left me a bit stunned. The suspension, though working overtime, was doing a brilliant job and in some parts one of the wheels was in the air. Needless to say, the Amaze did SUV duty on this stretch, and more importantly was successful at that. All for the view you see below.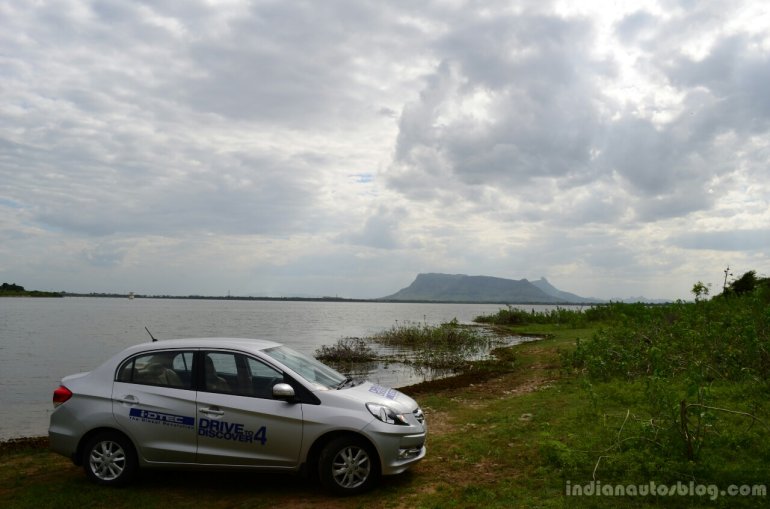 2. Bhimadole, Andhra Pradesh
Imagine this: Huge reservoir with a lot of water, a tiny bride connecting two sides over the reservoir, and nobody around for miles (apart from the goats). I could have easily filmed one of the scenes for 3 Idiots in this location and you wouldn't have known. Thanks to moist grass and a dirt road, we were able to put the Amaze sideways and get it dirty! There is no denying that immaturity kicks in when you're presented with a landscape I just described.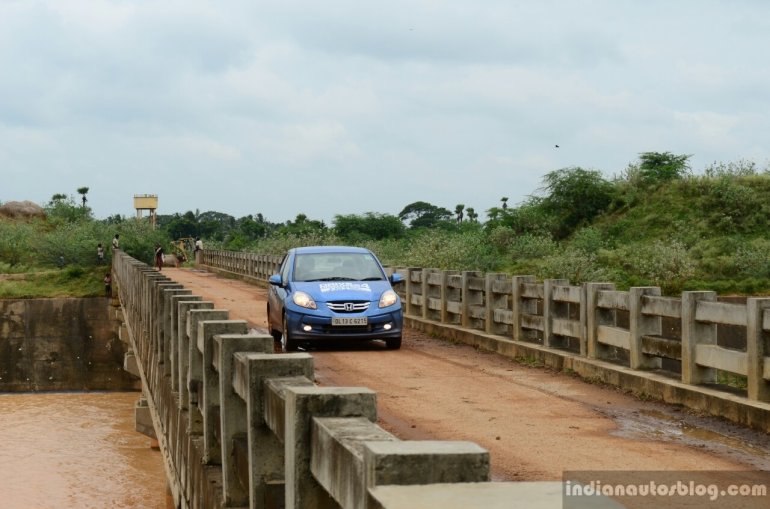 3. Forest roads of Yeleru and Koyyuru
Rajahmundry to Vizag can be done on the Golden Quadrilateral (AH45). We instead took a road which takes you through a forest. Quite a dense forest, the width of the road is exactly 4m (as we measured with the Amaze), no road lights, and you chance upon another human being every 10km. This 50-odd km of forest roads can possibly make it to the Ten Best driving locations in India. If you've the time and the company (having other people with an additional car is recommended as this road is not exactly safe), you should definitely explore this stretch.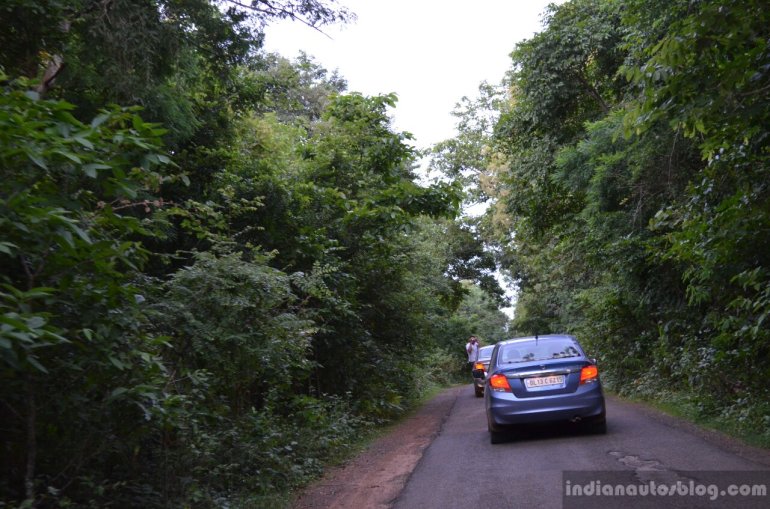 When you're driving inside a congested city for 6 days a week, 52 weeks a year, you sort of detest the thought of driving sometimes. The Drive To Discover is like recharging your driving interest and mine has been renewed for another few months at least!
The Car
The Amaze wows you instantly as you're unable to comprehend how so much space (including the big 400 liter boot) was packaged within 4 meters. The Amaze then, pleases the government just as much as it pleases its Indian customer.
Let me start with the bad bits. The 1.5-diesel is noisy and at certain rpms, feels unrefined even. At low engine revs in a higher gear, cabin vibrations are present. The performance as such has been optimized for relaxed driving rather than outright pedal to the metal.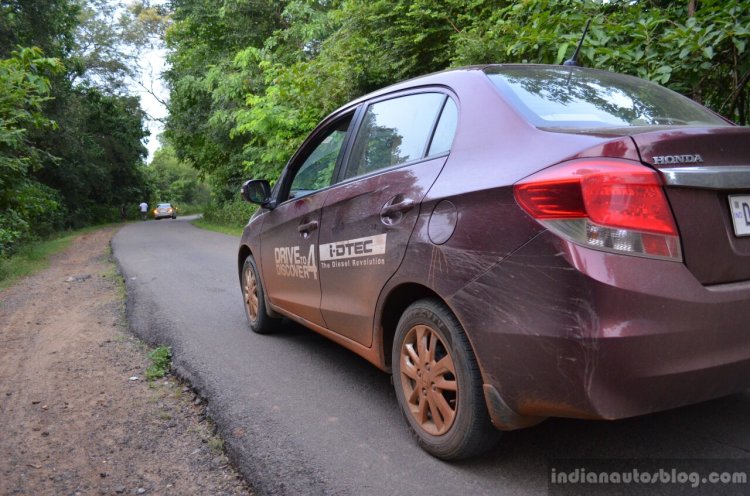 The Amaze I was driving had clocked 10,000km on the odo. There weren't any plastics that had gotten loose or unnecessary rattles. Driving it inside the city, the Amaze diesel with its linear turbo feels very pleasant to drive. The clutch is on the lighter side and the steering is as friendly as a Labrador.
Out on the highway, the Amaze hits its electronic limiter at about 145km/h in 5th gear. Even at this speed, stability is quite good and the fantastic ABS equipped brakes ensure you come to a stop even before you need to. Maybe when you drive the Amaze thinking about the 100PS of power it has to offer, you may be a bit disappointed as the 90PS 1.4-liter Hyundai diesel in an i20 feels much stronger. However, the upside to this sort-of-blunted performance is the fantastic fuel economy which I shall reveal in a moment.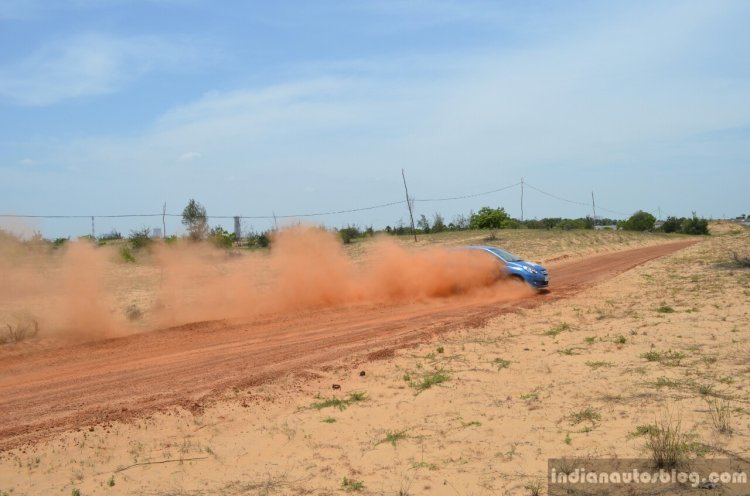 Now as far as durability of the Amaze is concerned, its aces! We did things Honda's engineering folks wouldn't have thought Amaze owners would do. We drove it off-road over huge rocks, we drove it on places where one had to put two wheels in a pit to overtake the bullock cart hogging the road, we drove it at its limit for hours together, we drove it over muck and grass trying to pull powerslides, we drove it over slippery surfaces doing handbrake turns and successfully pulling spectacular powerslides, we did 360s, we went over poorly lit speedbrakers at speed (some scraped the underbelly but caused no damage) and finally we drove it in an economical manner.
The Amaze did all these things without so much as complaining even a bit.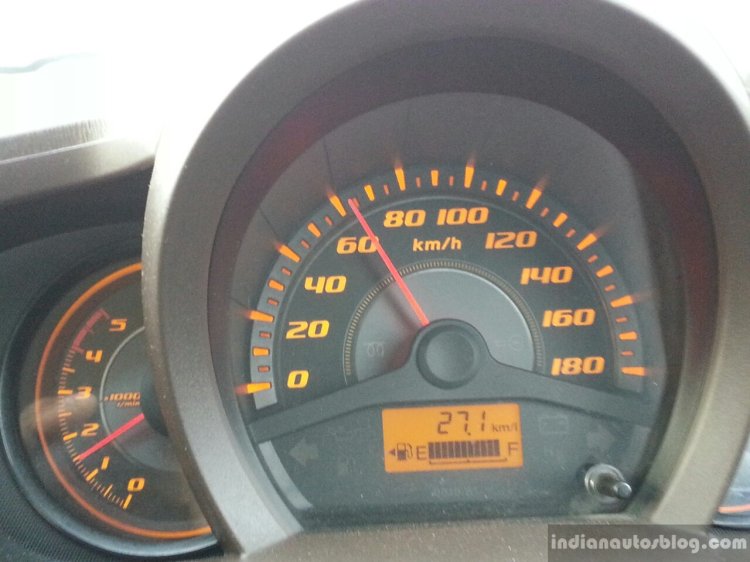 When driven flat out for hours (with 3 people, a boot full of luggage, a tank full of fuel and the AC switched ON), the Amaze did an impressive 12.5km/l. And when carefully driven on the highway with the same conditions, the Amaze indicated 27.1km/l!
If you think about it, a large chunk of our Indian car buying population want an affordable car, which is huge on space, preferably having a proper boot, packing decent equipment, with good road manners and safety kit, is affordable to service, cheap to run and yet somehow gives a premium feeling.
With all these requirements (which has been termed by many an international CEO as 'challenging') taken care of, its no wonder that Honda India has sold 30,000 of them in 150 days.
Honda Amaze Diesel Drive To Discover 4 Image Gallery
Honda Amaze Diesel Drive To Discover 4 Leg 2 Chennai-Vizag Route
[Head to Scribd if you're unable to view the document above.]