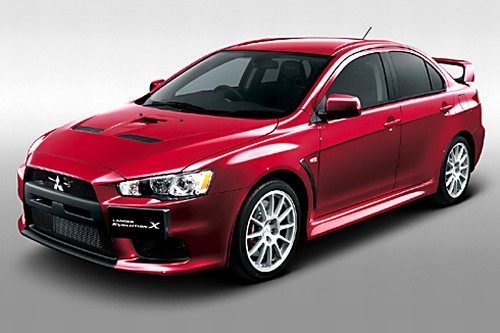 Mitsubishi and its Indian partner Hindustan Motors have been dormant for too long in India. The only products that did well for them were the mid-size Lancer and the butch-looking Pajero. Other potent products like the Lancer Cedia, Montero and the Outlander managed to find not many takers.
In the coming months, HM-Mitsubishi is planning to regain its lost glory by introducing a number of cars into the Indian market, including the iconic Lancer Evo X. Lancer Evos have dominated the rally arena for the last few decades and Mitsubishi India is going to bank in on this stellar reputation to manage better sales in India.
Mitsubishi had plans of introducing the Evo IX (the Evo version of the Cedia sold in India) but as they had better priorities like getting rid of  rodents in their factory, they chose to wait for the Evo X to come by.
The Mitsubishi Lancer Evo X, which was introduced in International market in October, 2007, is powered by 2.0 liter turbocharged, all-aluminum inline-4 engine which produces a monstrous 290 bhp. We expect the car to come with the advanced 6-speed Twin Clutch SST transmission with paddle shifts.
The car comes with all wheel drive and can be expected to handle like a ballistic missile. Sparco racing seats, Momo steering wheel and a generous dose of carbon fiber would add to the sporty feel of the interiors. All this wouldn't come cheap, the Lancer Evo X is expected to come with a sticker price of more than Rs. 40 lakhs.
The tamer version of the Evo X for the common man, the new Lancer is also on the cards. The new ninth generation Lancer would come with a 1.8 liter petrol motor which is good enough for 141bhp. But Mitsubishi's trump card would be the VW-derived 2.0 liter diesel motor, which would compete head-on against the likes of the Chevrolet Cruze, the soon to be launched Toyota Corolla Altis Diesel and the Skoda Laura. But again pricing holds the key.
HM-Mitsubishi recently announced that, their engineers have miraculously revived the stone-age indirect injection diesel engine of the Mitsubishi Pajero (which recently went off the shelves with the implementation of BS4 norms) and brought its emissions to satisfy BS4 norms. The butch Pajero BS4 could soon return to the showrooms.
HM-Mitsubishi would also be bringing a 7-seater version of the Outlander to replace the current 5-seater. Also a Triton pickup truck based SUV, called the Pajero Sport with a 2.5-litre 136bhp diesel engine is on the cards. This could be pitted against the Ford Endeavour and the Toyota Fortuner.
Mitsubishi future models gallery -