Hero Motocorp ended its ties with Honda in 2011 but the complete disengagement from Honda would come only in 2014.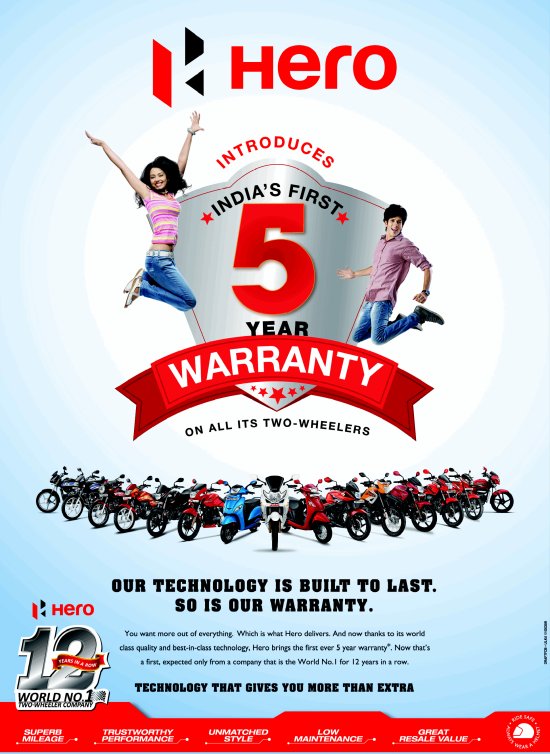 As per the agreement, Honda will continue to offer support in the form of technology to Hero until 2014. Hero Motocorp has to cook on its own after that by making use of its in-house R&D capabilities. The technological partnership with America's Erik Buell Racing is expected to substitute Honda's role in the company's operations.
In order to retain the confidence of the customer on Hero's products even after the withdrawal of Honda's technology and to cement its leadership position, the world's largest two wheeler maker (in terms of volume) has increased its warranty to 5 years/70,000km on motorcycles and 5 years/50,000km of scooters. This is the first time in the Indian two wheeler industry that a manufacturer is offering a five year warranty.
The increase in the warranty may not be a reflection of the improvement in the product quality but it just portrays Hero Motocorp's confidence on its products. Of course, the 5 year warranty is a good thing from a customer's point of view since it makes the purchase decision risk free.
In comparison, Bajaj Auto offers a warranty of 2 years/30,000km while TVS provides 2 years/40,000km (whichever comes first). The extension of the warranty period would come in handy as a trust-builder when Hero Motocorp brings its new products which are designed and engineered in-house.