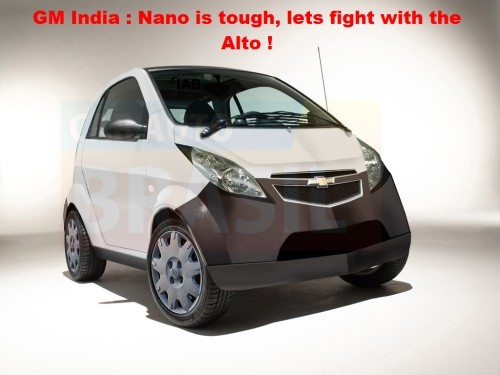 General Motors India along with its Chinese partner SAIC is on full swing developing new products for the Indian market across all segments. We have kept you updated about all the developments at GM India and the company's plans.
GM had announced that it would be developing a Tata Nano rival with the low cost manufacturing expertise of its Chinese partner SAIC. But now reality must have hit GM hard as the company has announced its new car would be priced at around 2 lakh Rupees, which would put in the Alto's segment.
Karl Slym, President and MD, GM India -
SAIC, our 50% joint venture partner in India, is very advanced on such low-cost manufacturing and we will use its expertise (in developing the 2 lakh rupee car). A lot of money is wasted in duties and logistics if one were to import components from China. Our endeavor is to use low cost supply base in India.
We had speculated about the Chevrolet Sail coming to India and now Karl Slym has confirmed GM India's plans of bringing the Chevrolet Sail hatchback and sedan to India soon. The company had conducted extensive car "clinics" for the Chevrolet Sail last month in Chennai and a few other cities. Slym stated in these "clinics", customers showed good response to the Sail variants.
Karl Slym also confirmed that the electric version of the Chevrolet Spark has been abandoned after the company broke ties with Reva as the latter was acquired by Mahindra. He also stated an electric car could be developed in the USA with Indian engineers altering the car to suit Indian markets.
Source: DNA