Our good friend Sushil Cherian of cars.zimbly.com came across a Ford EcoSport test mule on a roadside in Chennai last week. Even though he was rushing to an important meeting, he stopped by to examine the car closely and managed some images, like most auto aficionados would, especially the ones reading IndianAutosBlog.com.
[Left - Sushil's spotted an EcoSport with a beige lower dashboard; Right - Ford India's display car has a darker cabin layout]
Sushil's previous message was about his spotting of the Honda Amaze while on its way to the dealer yard, which we shared on our Facebook page, but this is a big one, fit to feature on our front page.
[The door inserts are dark and seats are black on the demo car (left), while the test mule had contrasting door inserts and beige seats (right)]
As Ford India is soft launching the vehicle through mall activations in twelve metro cities all through this month, there can't be something unique or new that Sushil's images could bring to light, right?
Wrong!
Sushil's test mule is a Ford EcoSport 1.5L AT variant with dual tone light beige-black interior, perhaps the first one of its kind. This unique color pairing isn't available anywhere in the world today.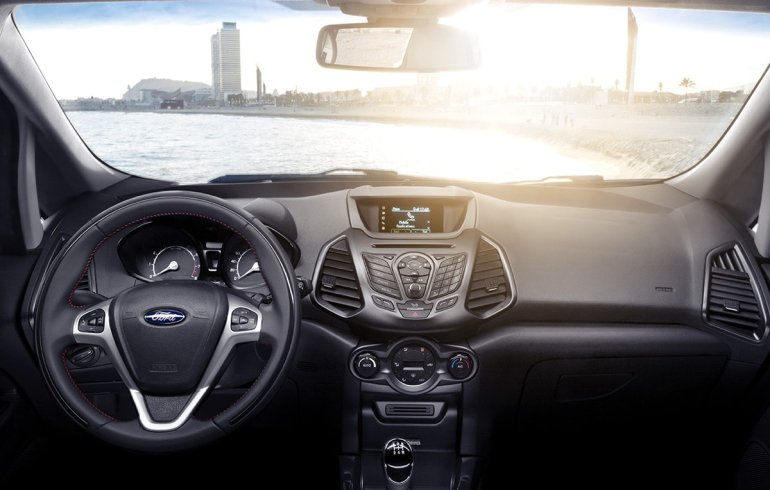 Both China and Brazil manufacture the EcoSport with a black and gray interior. The model we examined in Geneva last month used the same color play with blue stitches. The dull metal finish on around the aircon vents and audio controls was replaced with a darker tint. There was no beige anywhere in the cabin.
The model displayed in Thailand last month also had a dark interior.
The EcoSport revealed in Indian malls sports a black-gray dual tone interior. A lighter interior looks untidy if not maintained well, more so in dusty environments, but the benefit is it makes the cabin seem roomier than it is.
Indians have traditionally loved the company of beige in their cars, so Ford India should put this into production without batting an eyelid.
Having seen the demo vehicle at local malls, most readers have complained about the gloomy interior and expect Ford to do something about the the cabin plastic quality on the production model. Some readers have been let down by the rear seat comfort, while shorter people don't find that a problem. Almost all readers vote in favor of the visual pop in the exterior.
Its easy for us to say, but will Ford spare the dual tone beige interior a thought for at least the top-end variant? Don't you think the interior would look nicer with a lighter interplay of colors?
[You can catch Sushil on cars.zimbly.com on at twitter.com/zimblycars]