To celebrate its 70th birthday, Ferrari will launch an ultimate supercar summoning all its experience of supercar manufacturing, putting together race winning Formula 1 cars, its latest designs, technologies and materials.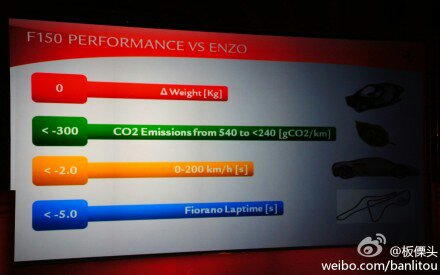 The Enzo was launched to celebrate 60 years of Ferrari supercars, while the F50 and F40 marked the Italian company's earlier milestones. These supercars were road-going versions of Ferrari's F1 cars, they were the closest that Ferrari's well-off customers would come to driving a Formula 1 car everyday.
Here's a leaked presentation slide that's floating around the internet this morning blurting out more details on the Ferrari Enzo successor.
Bugatti and Mclaren are planning to congratulate Ferrari by sending them gifts. The notorious competitors are not going to be at Ferrari's party but will celebrate in the way they know best - by launching their flagship supercars next year to show the F70 its place.
The F70 (codenamed Ferrari F150) is likely to be the new performance benchmark. Compared to the decade old Enzo, the F150 is about the same weight (perhaps the weight loss is negated by the use of HY-KERS unit). Engineers have achieved a whopping 300 gram reduction in CO2 emissions, a two second advantage in the 0-200kph sprint and shaved five seconds off a lap around the Fiorano circuit.
The speculated engine under the cowl of this improved Ferrari is a 6.3 litre V12 unit supported by a F1 drived HY-KERS unit. Ferrari will rely on the Geneva Motor Show to give the public the first glimpse of this supercar, albeit branded differently as Ford has been selling pickup trucks under the same name for over 50 years.
[Image source going by the watermark - weibo.com/banlitou]