After celebrating its world premiere at the Pebble Beach Concours d'Elegance this year, the Ferrari 488 Pista Spider made its European debut at the 2018 Paris Motor Show. The 488 Pista Spider is the 50th drop top model by Ferrari, and is also the most powerful series production spider in Ferrari history.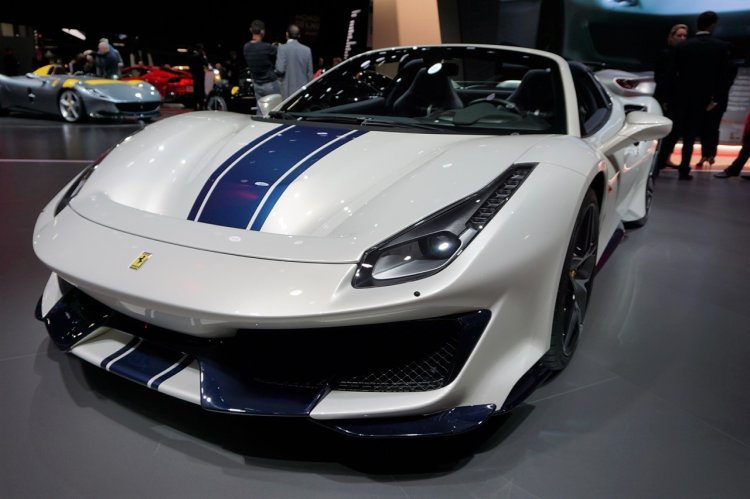 Ferrari say that the 488 Pista Spider's engine, dynamics and aerodynamics are derived from two track cars: the 488 Challenge and the 488 GTE. The engine is the 3,902 cc twin turbo V8 (which also happens to be the most powerful V8 engine in Ferrari history) with 720 cv (709.86 hp) at 8,000 rpm which is 50 cv (49.29 hp) more than the 488 Spider. Maximum torque peaks at 770 Nm (10 Nm more than the 488 Spider) and is accessible from 3,000 rpm.
As a result, the 488 Pista Spider claims 0-100 km/h acceleration in 2.85 seconds and a lap time at Fiorano of 1 min 21.5 seconds. The performance is also result of a decreased weight in the engine thanks to evolved components such as Inconel exhaust manifolds, a lighter crankshaft and flywheel, and titanium con-rods, contributing to an 18 kg reduction in engine weight alone.
Aerodynamics have been improved thanks to active aerodynamics on the rear underbody and a completely redesigned version of the blown spoiler (patented on the 488 GTB). Also read: Ferrari GTC4Lusso launched in India - In 20 Live Images
According to Ferrari, the 488 Pista Spider's target client is a "typical diehard Ferrarista who already owns other Ferrari spiders." Considering that Ferrari already offers the 488 GTB (and some examples of the 488 Spider have been seen on Indian roads) in India, a few units of the 488 Pista Spider could be earmarked for Indian buyers to order.