Update - The Ferrari 458 Speciale has been presented at the 2014 Goodwood Festival of Speed. A new gallery has been updated at the end of the story.
The most extreme road-legal Ferrari, the Ferrari 458 Speciale, received its public debut here at the Frankfurt Motor Show this afternoon.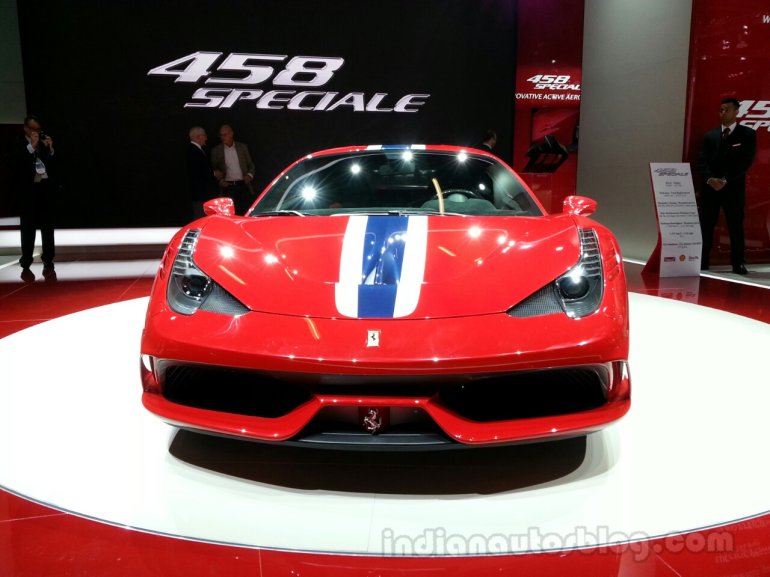 To the naked eye, the Speciale is nothing more than a regular 458 with some decals. But don't believe your eyes on this one, as the content hidden beneath the decals make it truly worthy of the 'Speciale' badge!
The Speciale may get the same 4.5-liter V8, but it now been reworked to make 597bhp at 9,000 rpm (35bhp extra) and a peak torque of 540 Nm at 6,000 rpm. While this is no where near as the LaFerrari's 900hp output, it is the highest for a naturally-aspirated V8 engine. The 135hp/liter engine is the highest output achieved by a V8 in a road-legal car.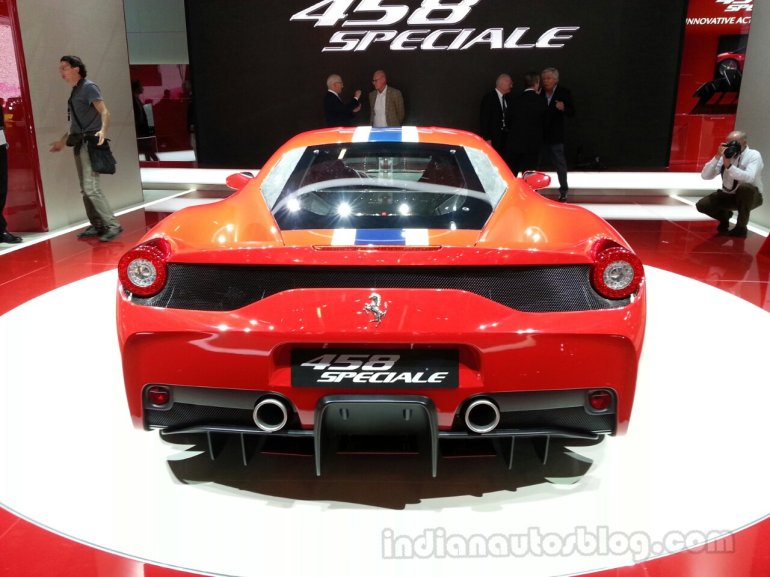 The dry weight of the Speciale is 1,290 kg. The 90kg weight loss helps it accelerate to 100kph from a standstill in 3 seconds. 0-200kph takes just 9.1 seconds. The lap time around Ferrari's Fiarano race track of 1 minute 23 seconds is 1.5s quicker than the Enzo!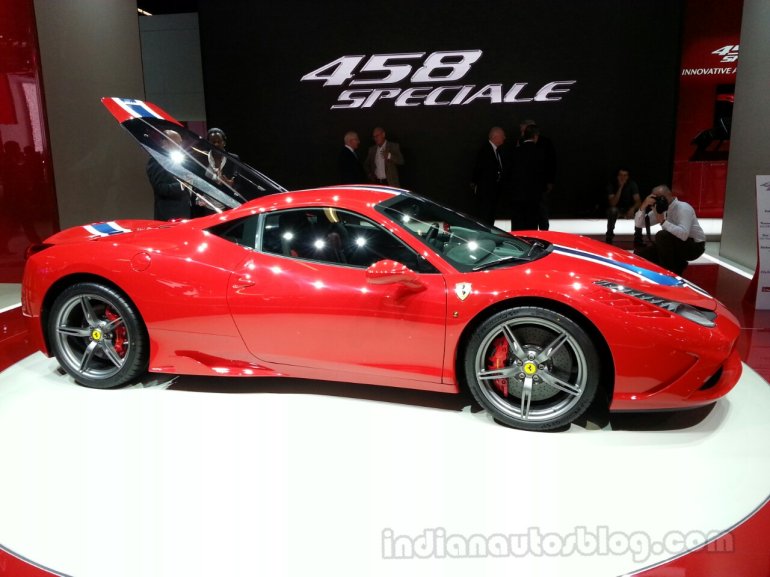 The 458 Speciale also has the fastest response time (0.060 s) and boast of achieving the highest lateral acceleration (1.33 g) for a Ferrari. Weight-saving measures include Carbon-fibre bucket seats, lightweight wheels, carbon fiber body panels and a sparsely equipped cockpit.
The Speciale's the company's most aerodynamic Ferrari ever helped by the movable front and rear flaps and air curtains over the front wheels that minimize drag and balance downforce. It comes with several electronic assistance systems like the Side Slip Angle Control (SSC) that electronically optimizes the torque management through traction control and torque distribution.
The Ferrari 458 Speciale rides on specially made Michelin Pilot Sport Cup 2 tires.
Ferrari 458 Speciale at the 2014 Goodwood Festival of Speed - Image Gallery
Ferrari 458 Speciale Gallery
Ferrari 458 Speciale introduced at the Frankfurt Motor Show
[Can't see the press release here? Head over to Scribd]