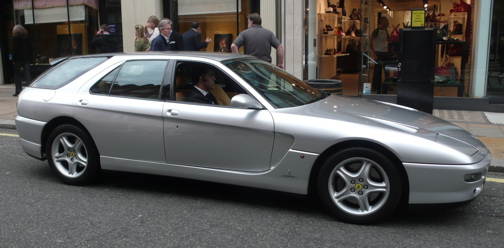 The Ferrari you can pick the kids up in…
This not-for-sale little piece of eye candy just happened to be parked on the street to blow our little mind. The automobile in question is the incredibly rare FERRARI 456 VENICE STATION WAGON, a painfully limited-edition vehicle designed and built by Ferrari styling house PININFARINA for the royal family of the SULTANATE OF BRUNEI.
Ferrari 456 Venice Station Wagon Image Gallery
Featuring four doors, a proper backseat, a hatchback, and a 20 cm longer wheelbase, this vehicle is similar in size to a BMW 5 series wagon with all the styling and cylindrical ferocity of a dancing horse.
Ferrari lover? don't forget to check out
the FERRARI TOILET SEAT. You'll love it!
Life-size LEGO replica of Ferrari F1 car
Source : Super Touch Art