The Rossi fan in you convinced you that a Yamaha R1 is more valued and makes more sense than a house or a car. You gave up to the fan, quarreled with your wife (she even threatened to abort the married life) and booked a Yamaha R1. It now rests in your garage, chained and very likely a security guard and a dog keep thieves away.
Months passed, and boy it feels good. Nevertheless, it needs something extra now since the it no more has the new-bike feeling to it. I know, why should your bike be in black or red. Maybe you can't have the race track for yourself every weekend, but at least why cant the bike have the numbers and font found on Rossi's bike?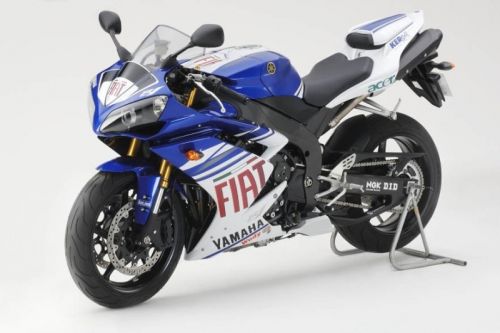 If I was talking about your feelings and inner-self in the above lines, then what I'm about to talk next, will maybe even bring a tear or two on to your cheeks. 35 kits from Yamaha will go onto 35 (duh!) R1 and R6 bikes, instantly converting them into the bike which Rossi rides on weekends. Maybe only appearances wise but this is after all, the official MotoGP kit from the manufacturer.
It can be purchased from Yamaha France. You wouldn't mind the shipping cost or the actual cost of the kit considering the satisfaction you get out of quenching the Rossi fan who lives inside you.
Source- MotoFlash