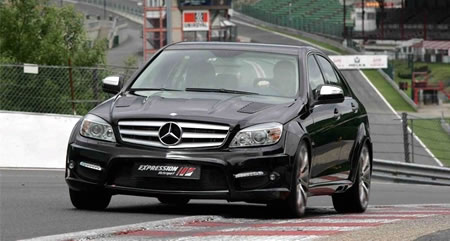 The Mercedes Benz C-Class happens to be one of the most powerful, safest and nicest looking sedans you can buy for BMW 3-Series money ;) But what's next after you've purchased one?
Possibly you could drive it to the maximum and assess its crumple zones, airbags and allied safety devices, but we have an alternative which appears a little more reasonable. Belgian tuner Expression Motorsports has revealed its widebody DTM-derived visual enhancements for the new 2008 Mercedes-Benz C-Class named the EX C Motorsport kit.
Once the kit is appointed on your C-Class, people like Ralf Schumacher (who takes part in the DTM races) will give it a second glance which now looks like a C63 AMG! The new front bumper, fog lamps, LED indicators, front carbon fiber lip spoiler, 10 piece fender flair set, side skirts, a new rear bumper with a carbon fiber diffuser and wing spoiler with integrated LED F1 brake lights, do the job of transferring the everyday-sedan into a DTM devil.
In addition, have I spoke of the dual twin-tip exhaust system and 22-inch alloy wheels which slides in glibly with the rest of the kit? It looks colossal I'll tell you. Hit the jump to see more pics and a video.
Source- World Car Fans