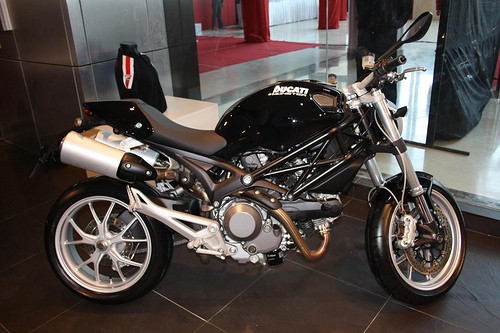 Ducati isn't planning to assemble or design smaller bikes for Indian market
Ducati inaugurated its second showroom in Gurgaon yesterday and Associate Editor Shakti was at hand to bring you this report. Shakti interacted with Ducati's management, and brand ambassador and motorcycle racer Nicky Hayden who was specially flown to entertain guests at the event to bring you all the following details.
Following are some key points from yesterday's meet:
Dealership
* This is Ducati's 2nd Indian showroom in just 45 days
* The new dealership is built in accordance to global standard and parameters
* Dealership handles  sales, service & spares
* It also sells accessories and branded life style gear
* By June 2010, Ducati will be present in all metros across India
* The management claims lots of inquiries and interest amongst enthusiasts has shown the way to the company
Nicky Hayden & MotoGP
* New and significant changes to the engine for the new season to make it more friendly, platform remains the same
* Favorite tracks is home track in California
Plans for future
* No plans for local assembly line
* No plans for JV or tie-ups
* No plans to build smaller bikes for India
* The company wants to maintain itself as a niche brand and sell niche products
* It target to sell 150 bikes in India
Bikes and Variants
* Complete line up is offered in India
* All 7 models & their 15 variants can be bought at the Ducati store
* Exactly same bikes + Exactly same bikes variants + Exactly same specifications on the bikes sold here
We will be keeping a close track on Ducati's activities in India and observe how they tackle the Japanese competition.
Image Credit - Associate Editor Shakti Budhiraja
Ducati dealership inauguration and press conference Image Slideshow
If you're not able to see the slideshow above, visit the Ducati dealership inauguration Image Gallery directly to view the images
Press Release
Ducati Motor Holding strengthens its foothold in India

Ducati inaugurates its second showroom in Gurgaon, India

New Delhi, December 18, 2009: Ducati Motor Holding, the world's leading producer of racing inspired motorcycles, in partnership with Precision Motor India Private Limited, today announced the opening of its second dealership outlet in Gurgaon, India. The dealership outlet will be handled by Radiant Lifestyles.

On this occasion, Mirko Bordiga, CEO, Ducati, APAC, said, "We are very excited about the Gurgaon opening. We see a lot of potential in India and we are glad that we are able to fulfill our promise of opening two showrooms in India in a span of less than two months! We have received a positive response from all bike enthusiasts and it's good to know that they are excited about the Ducati brand. We feel honored to be part of the evolving motorcycle industry in the country."

Mr. Ashish Chordia, CEO of Ducati India operation trading under Precision Motor India Private Limited said: "The Ducati brand symbolizes racing success and passion, which we at Precision Motor India also represent. With the opening of this showroom we have are now able to reach to our customers in both the key markets - Delhi and Mumbai. We look forward to a long and fruitful association with Ducati and Radiant Lifestyles and we are very proud to be promoting the Ducati brand in India."

On the occasion, Mr. Jasbir Singh, COO, Radiant Lifestyles said, "As Ducati dealers in Delhi & NCR we commit ourselves to delivering the Ducati experience to all Ducatista. Promoted by the Radiant Group, the launch philosophy would be a blend of lifestyle with biking excitement. Starting with the infrastructure, the endeavor has been to replicate the Ducati's CI CS standards to help our customers live the thrill of Ducati. 'Benvenuto' to all Ducati fans"

Ducati had opened its first showroom in November 2009 in Mumbai.