Datsun, the budget brand owned by Nissan, had announced last year that it will make cars again.
The brand is targeting emerging markets like India, Indonesia, Russia and South Africa. The first Datsun products are a couple of hatchbacks (codenamed I2 and K2) which are being developed at Renault-Nissan's technical center in Chennai.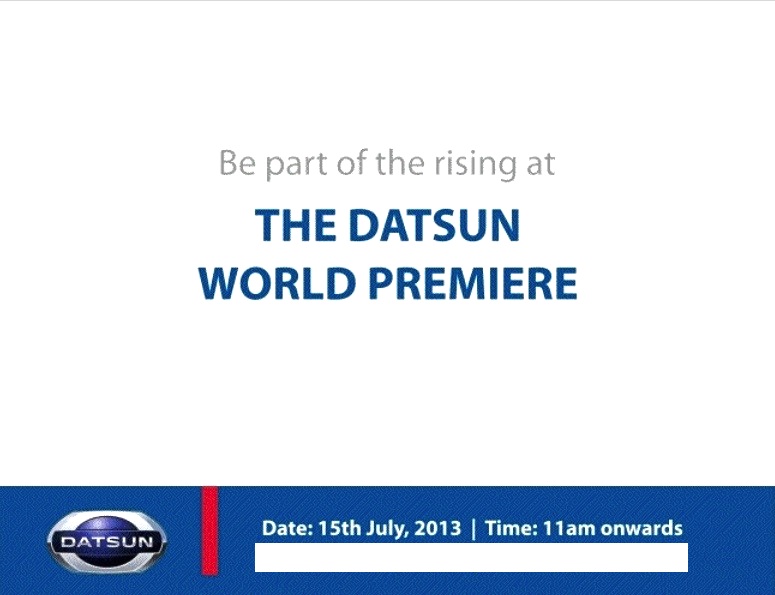 Through its 'block your date' email, the company has just announced that the "Datsun World Premiere" will take place on July 15th.
We are strongly inclined to think that Datsun would stage the world premiere of its first hatchback which is codenamed K2 on July 15. This is of course besides the relaunch of the brand itself.
Sources tell Indian Autos Blog that the K2 will be sold in Datsun's target markets with the exception of Russia where the first product will be a Lada Granta based sedan.
The K2 is based on the V platform which also underpins Nissan's global models Sunny, Micra and Note. The lightweight platform is heavily localized in India enabling Datsun to leverage the cost advantage.
As of now, only petrol engines are in the running. The K2 will be positioned below the upcoming low cost Micra as a competitor to cars like the Chevrolet Beat, Hyundai Eon, Maruti Wagon R, etc.
The global launch of the Datsun brand is expected to be presided by Mr. Carlos Ghosn himself, the CEO of Renault-Nissan Alliance. As usual, we will be presenting you live reportage from ground zero.
Datsun's selection of India to stage their comeback speaks volumes about how important a role the nation plays in the company's strategy.