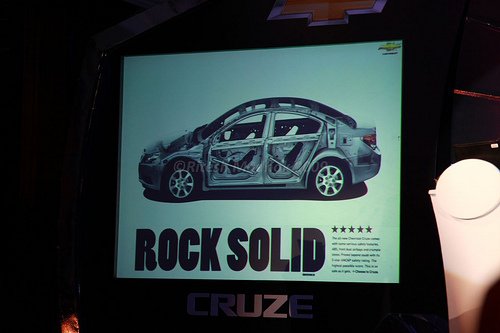 Solid as rock, the Chevrolet Cruze might cause rock slides in the D-Segment territory
The Chevrolet Cruze coverage on Indian Autos Blog has been very comprehensive. We have left no stone unturned in the Cruze chapter. Perhaps only a test drive report is missing from the picture, which will also be brought to you later this month.
At its launch event in Mumbai today, Vice President of GM India, Mr. P Balendran, who stressed that the Cruze is an very important vehicle for GM not only in India but all over the world left a few people in disbelief when he announced the price of the car.
Priced at 10.99 lakhs for the LT and 12.45 lakhs for the LTZ model, cars like the the Civic, Altis, Jetta and the Laura have no where to hide. Considering its the best seller in China and is fast climbing the sales chart the world over, the Indian consumer will also put India on that list, I think.
The launch function began with a small A/V presentation of the Cruze. Its features were highlighted and teaser videos were aired followed by a group of girls playing on their violins.
The car entered the stage while the girls were still playing the music. The entry of the car and the exit of the girls were beautifully synchronized.
The much awaited car arrived on the stage driven by Mr.Balendran himself. Powered by the 2,000cc diesel engine churning out 150bhp and a very healthy 326Nm of torque, this car truly is a leader on paper.
At the media interaction which followed, Mr Balendran stated the Indian made Cruze would be also exported and GM India has the facility to manufacture Left Hand Drive cars if needed. The Beat would be the next launch from GM later in the year.
Chevrolet Cruze Presentation Image Slideshow
Can't view the slideshow above? Visit the Chevrolet Cruze Presentation Image Gallery directly