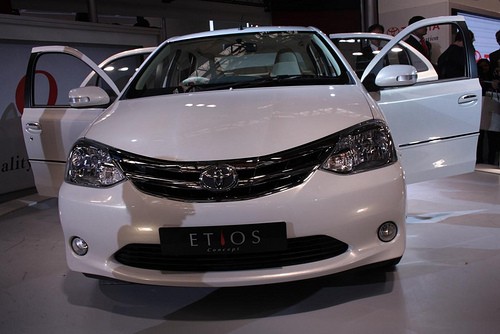 The Etios MPV will have the same wheelbase as the sedan and share vital components
If google's translation service is any good, we have landed up with a scoop on Toyota's plans with the Etios platform.
It is no secret that Toyota will not stop with a sedan and hatchback with the Etios platform. We were informed during the Auto Expo that the Japanese company is studying the possibility of a MPV, but that's where the full stop was placed.
Dubbed entry minivan, the Etios platform will see a 7-seater MPV by the end of 2011. Details are sketchy but we understand the MPV will offer golf course like space and rubber band like cabin seating flexibility. Plenty of components will come from the Etios' parts bin.
In fact all of the interior bits will be from the Etios twins. The wheelbase will remain the same, so the extra row of seats will be placed on the rear overhang. The Taiwanese website hosting this information says the use of hard plastics in the interior will not be so evident thanks to the texture.
No details on the engine have surfaced. Would Toyota bring the 1.4 D-4D from Europe and use it on the Altis and the Etios MPV? Or will the intercooled Innova diesel engine serve as the lone diesel engine option on this new MPV?
Should we rule out the possibility of the Etios MPV being the next generation Toyota Innova? Or could this be the MPV that will sit below the Innova announced during the Tokyo Motor Show last year?
Toyota Etios hatchback Image Slideshow
not able to see slideshow above? visit the Toyota Etios Hatchback Image Gallery directly
Toyota Etios sedan Image Slideshow
not able to see slideshow above? visit the Toyota Etios sedan Image Gallery directly
Source - Autonet Taiwan