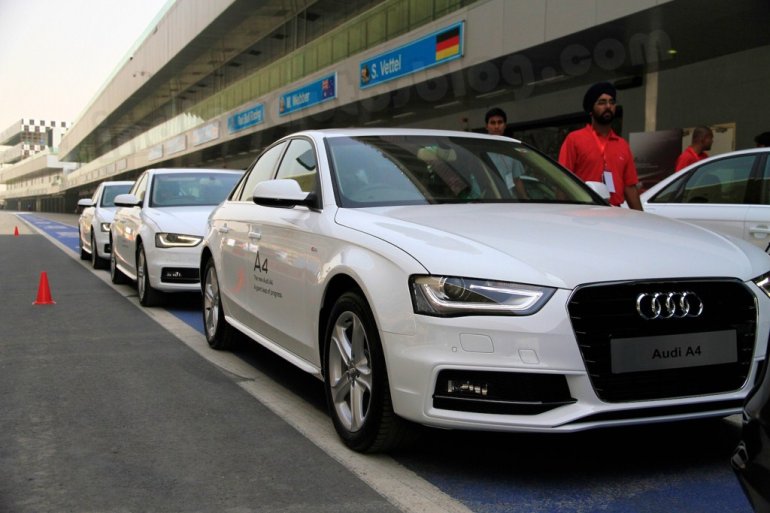 Push the pedal to the metal, try not to stare at the speedometer, jump onto the brakes, take a turn and shift back onto the accelerator before the revvs drops. That's exactly what you do when you are given an Audi A4 to lap the Buddh International Circuit.
Audi invited us to a track day with its A4 variants at the BIC where we got a chance to test the car's ability. Mind blown? Click through to find out!
First off was the handling and maneuverability test on a small course constructed in the parking area. The course consisted of high-speed emergency turn, 180 degree turn, slalom and ended with emergency braking maneuver. The car, being the 1.8 TSI, had front wheel drive, but still felt very stable through the course. As we took laps around the circuit, the car inspired us to go faster and faster and not for once did the car loose grip. There was a slight body roll in the slaloms but still the car felt very composed.
The steering feedback has improved. How much? For an idea, it actually feels more connected and has a better feel than say the Mercedes E63 AMG I drove in January this year. I am more used to driving SUVs so personally, I found the steering a bit small.
On the track, the petrol being the more powerful and lighter variant, performed markedly better than its diesel counterpart. Understeer has always plagued Audi's cars but even with traction control on, it was fun to drive hard through some of the tighter apexes. You move the steering and the car automatically finds the grip and points its nose in the direction you want it to.
The traction control system was playing its part but never did it try to be a spoilsport and even though it controlled the car superbly, it was hardly noticeable.
The 1.8 TSI motor was the winner out of the two with the power delivery being very linear until 3,000 RPM and very sporty past that up until the red line, accompanied by a sporty note. Both the upshifts and the downshifts were pretty slick and it actually felt like the gearbox was in a strong relationship with my senses!
My final verdict – Audi has incorporated some of the technologies of the more superior A8 and the A6 into the A4 making it an irresistible option, and the competition has to come back with something better. Comfortable, sporty, superb interior quality, refreshed looks, best in class average fuel consumption, arguably the safest, practical interiors, gadget-loaded, fast-paced gearbox and all this at a lower price - Even without today's track day event, we could judge that Audi had a dynamite of a car in the new A4.
Audi A4 facelift Track Day Image Gallery