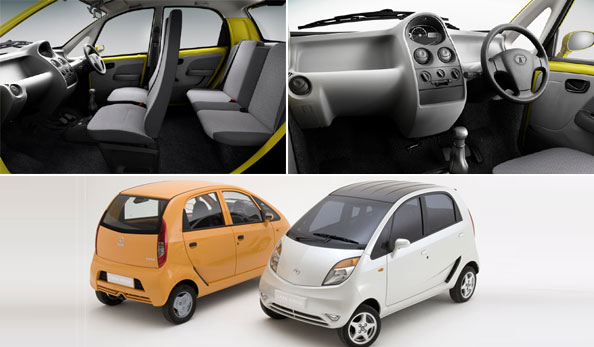 Tata Motors shot us a press release informing the availability of the Nano across all dealerships in India. At this point, the Nano comes in three variants and a 4-year / 60,000-km (whichever is earlier) manufacturer's warranty, at no additional cost.
Customers can also avail a maintenance contract at 99 rupees/month to take care of running costs. The Nano comes fitted with safety tools that protects it from short circuits and fire.
Now that the Nano is available from Kashmir to Kanyakumari, sales should pickup and reach 5 figures in no time.
Have you test driven the Nano yet?
Press Release
Open sales of Tata Nano extended across India
Mumbai, January 3, 2011: Tata Motors today announced open sales of the Tata Nano in all the remaining states of India. The car was thus far freely available in 12 states. Customers across the country, who are desirous of driving home a Tata Nano but had not booked the car during 2009, will now be able to purchase a Tata Nano from the company's 874 sales outlets in India.
The Tata Nano comes with a 4-year / 60,000-km (whichever is earlier) manufacturer's warranty, at no extra cost. In addition, customers have the option to avail of a comprehensive maintenance contract at only Rs. 99 per month. This contract will help take care of running maintenance of the car.
Tata Motors Finance (TMF), which provides finance for all Tata Motors vehicles, has launched a special Tata Nano finance scheme, under which a customer can get up to 90% loan with select documents in just 48 hours. Besides, Tata Motors has tied up with 28 banks and NBFCs to offer customers loans for purchasing the Tata Nano at attractive rates of interest.
Customer satisfaction studies with current Tata Nano owners indicate that over 80% are satisfied or very satisfied with the car, because of it being small yet spacious, its performance, maneuverability, durability, mileage and safety. Some owners have taken their Tata Nanos on country-wide trips or to altitudes like Khardungla, the world's highest motorable road.
Besides its dealership showrooms, the company is setting up Special Nano Access Points for customers in the hinterlands to experience, test-drive or test-ride the car.
About the Tata Nano
The Tata Nano offers an incredibly spacious passenger compartment which can comfortably seat four adults. With a length of just 3.1 metres, width of 1.5 metres and height of 1.6 metres, the Tata Nano has the smallest exterior footprint for a car in India but is 21% more spacious than the smallest car available today. A high seating position makes ingress and egress easy. Its small size coupled with a turning radius of just 4 metres, makes it extremely manoeuvrable in the smallest of parking slots.
The three trim levels and their key features are:
Tata Nano Standard: The standard version, in three colour options, single-tone seats, and fold-down rear seat;
Tata Nano CX: In five colour options, with heating and air-conditioning (HVAC), two-tone seats, parcel shelf, booster-assisted brakes, fold-down rear seat with nap rest;
Tata Nano LX: With the features of CX plus complete fabric seats, central locking, front power windows, body coloured exteriors in three premium colours, fog lamps, electronic trip meter, cup holder in front console, mobile charger point, and rear spoiler. Many of these features are not available on current entry-level small cars in the country.
Performance & specifications
Performance: The 2-cylinder 624 cc engine – delivering 35 PS @ 5250 rpm and a torque of 48 Nm @ 3000 rpm – enables the car to have a top speed of 105 kmph and negotiate inclines with a gradeability of 30%.
Fuel efficiency: 23.6 km/litre, certified by the Automotive Research Association of India (ARAI) under mandated test conditions, which is the highest for any petrol car in India.
Emission: The high fuel efficiency, with a low kerb weight of 600 kg, ensures that the Tata Nano – at 101 gm / km – has the lowest CO2 emission among cars in India.
Safety: The Tata Nano's safety performance exceeds current regulatory requirements – it passes the roll-over test and offset impact, which are not regulated in India. It has an all sheet-metal body, reinforced passenger compartment, crumple zones, intrusion-resistant doors, besides mandatory seat belts and complies fully with existing Indian safety standards. Tubeless tyres – among which the rear ones are wider endowing extra stability – enhance safety.
Warranty: 4 years / 60,000 km whichever is earlier.