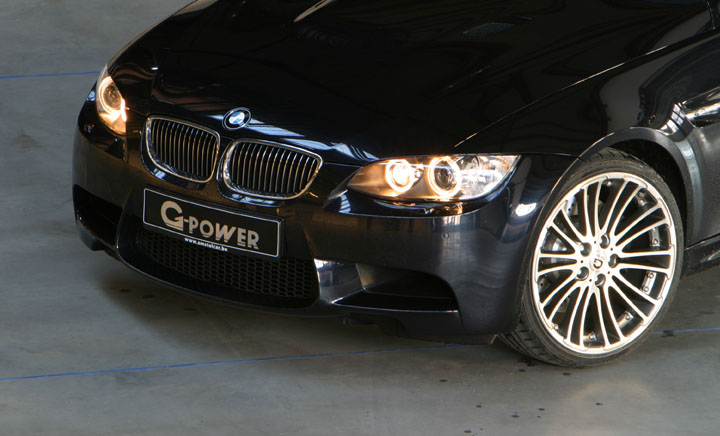 Here is a souped up version of BMW's popular sports coupe, M3 which is super tuned by G-Power. The production M3 model has 420 bhp but in stage 1, the Compressor system EVO-SK I adds another 105 bhp which makes a total of huge 527bhp. Here we brief you on the modifications done on the 1st and 2nd stages.
BMW M3 G-Power Stage 1 modifications-
ASA T1-17 superchargers including over running clutch ASA K05
Supercharger lubrication through bypass from motor oil circuit
Ultra stiff CNC shaped supercharger bracket system made from aluminium pneumatic controlled, engine load related boost control
Flow optimized, large volumetric fresh air intake and racing air filter.
8 x fuel injectors with enlarged mass flow.
Optimized exhaust conduction through a back pressure reducing G-POWER full stainless-steel sport rear silencer with 4×83mm tailpipes featuring the M-design look.
Custom made software for the standard BMW engine and SMG- transmission electronic control unit.
BMW M3 G-Power Stage 2 modifications-
An ASA supercharger with enlarged mass flow rate (ASA TM1- 17HD)
G-POWER SPEEDFLOW exhaust system (export only).
optimized exhaust conduction through dynamic pressure reduced exhaust system including first catalysts replacement pipes.
Racing stainless-steel catalysts and intermediate muffler.
Adjustment of the ECU software to the enlarged mass flow rate.
BMW M3 Coupe Image Gallery
IAB Comment- If you own a BMW M3 and want to fit it with the G-Power package, then why not head to the G-Power website to learn more.