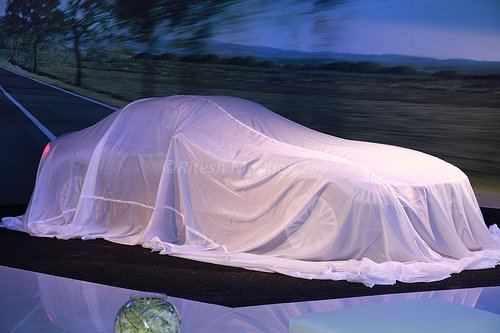 The BMW Z4 convertible is yet another unique model in the Indian lineup
BMW India unveiled its 2-door Roadster Z4 here in Mumbai in a very stylish function conducted today morning at the ongoing India Couture Week.
The sexy and chic convertible model was showcased to select members of the press by Mr Peter Kronschnabl, President BMW India, who explained to us that the Z4 "outlines the expression of joy which epitomizes the quality of the BMW brand by combining the ultimate driving experience with maximum sporting potential and distinctive design."
Available only with a petrol engine, the Z4 is strapped with a 3,000cc engine mated to a 7-speed auto transmission.
Questions were answered by the BMW President in a very witty manner - he said that BMW would bring the Mini brand here in the near future and as is the case with the BMW Motorcycle lineup. He said BMW is the number one luxury brand in India, not once, but thrice during the interaction.
Kronschnabl also elaborated that BMW is expanding dealer network at a very brisk pace. It is planning on setting up shops in small towns and cities.
The BMW Z4 sDrive35i is be priced at an ex-showroom price of Rs.59 lakh.
BMW Z4 Unveiling Image Slideshow
If you can't see the slideshow above, visit the BMW Z4 Unveling Image Gallery to view the images