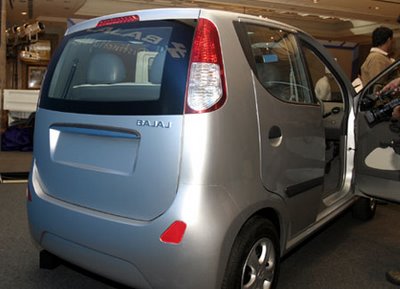 Bajaj's compact car will share components with 2, 3-wheelers.
According to officials in Renault, the small car developed by Bajaj Auto featuring DTSi technology that will be marketed by Renault-Nissan alliance in India will be smaller than Maruti Suzuki's Alto.
Scheduled for 2012 release, the Bajaj low cost car would be cheaper than any other small car in India. The design, engineering and manufacturing will be Bajaj's tasks while marketing and selling the vehicle would be Renault's job.
Renault Asia Africa Management Committee Executive Vice- President Katsumi Nakamura -
The car that we are discussing with Bajaj is smaller than the small car. A small car like Maruti Suzuki's Alto or a 1.2 litre car is not on the table for discussion of Renault Bajaj. We are discussing a smaller car than the small car
Bajaj said earlier the new small car and its existing line of products consisting of 2 and 3-wheelers, will have 70-80% parts in common.
Bajaj ULC Concept
[nggallery id=27]
Source - Business Standard