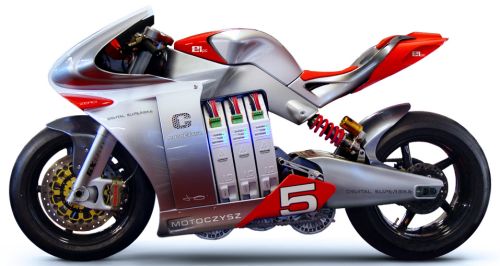 Bajaj Auto and US-based MotoCzysz LLC will join hands and build a 'next generation automobile.'
The details are sketchy, but according to the reports, a low cost electric car for the Indian masses is what they are setting out to accomplish. MotoCzysz revealed its E1pc electric superbike recently (pictured above; zero to 192km/h acceleration in around 7-8 seconds), and when they say next generation automobile, it has to be something affordable and unique. It certainly is not going to be a supercar.
Work on the first prototype of this ambitious project will begin this month in Portland, USA. What should we expect? Well, that's a tough one, but expect a slippery design, innovative interiors and a very distinct overall identity. Since it involves two companies having backgrounds of building two wheelers, could the final product be a cross between a bike and a car?
Rajiv Bajaj, MD, Bajaj Auto -
Michael Czysz has a rare skill set with first hand experience in internal combustion, electrification, motorcycle and overall environmental design. Given his unique design background and history of innovation, we are excited about the possibilities of this project.
Michael Czysz, founder, MotoCzysz -
When I walked through the gates of Bajaj, I was immediately moved, the place, the people and the family are inspiring, it feels like anything is possible and the level of competence I saw was world class. Bajaj is an ideal partner.
More at India Automotive