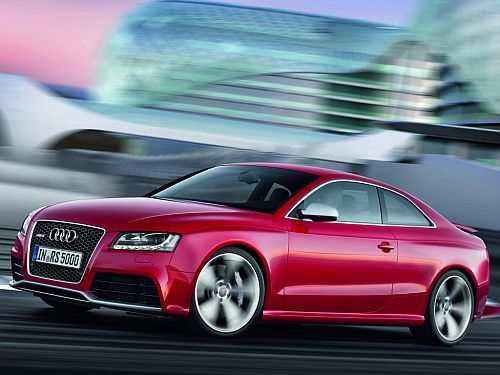 The Audi RS5's looks and performance figures are amazing
Our good friends in India Automotive are reporting the spine-tingling Audi RS5 could arrive at our doorsteps by the end of 2010.
The Audi RS5 would be priced around 49 lakh rupees when it goes on sale in Europe later this year. Thanks to the duties levied, it will cost more than a crore of rupees in India.
But what do you get for one crore rupees?
- A 4.2-litre FSI V8 engine capable of putting out 450 hp and still able to return an impressive fuel economy figure of 9.25kmpl. 0-60mph comes in 4.6 seconds and accelerates to a top speed of 280kph.
- A twin-clutch 7-speed S-tronic transmission (which can be operated in auto and manual modes) and Quattro all-wheel-drive.
- 19-inch alloy wheels (20-inch wheels are optional) 365mm steel brake discs at the front (380mm ceramic carbonfibre discs are optional), an electronic stabilization program (ESP) with integrated sport mode are just the first few points in the mile-long list of features.
Audi RS5 Image Slideshow
no slideshow above? visit the Audi RS5 Image Image Gallery to see the images