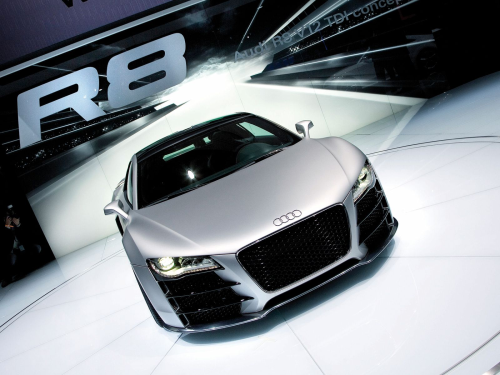 German automaker Audi has brought the limelight to the sports car segment(after a very long time) by rolling out its mid-engine sports car Audi R8 at a price of Rs 1.17 crore ($250,000). The R8 will be sold at 12 dealerships across the country: in Delhi, Gurgaon, Chandigarh, Mumbai, Pune, Bangalore, Hyderabad, Ahmedabad, Ludhiana, Chennai, Kochi and Kolkata.
The launch took place at the splendid lawns of the German Embassy in New Delhi along with two Audi racing legends: Auto Union Type D and the Audi R8 Le Mans Prototype, both chosen for their link to ground-breaking technologies of their time. These cars were introduced to the public in a rare display, after which in a stunning presentation eight Audi R8s moved in a convoy to the historic India Gate through streets of New Delhi.
The Audi R8 is not only a strong statement about the brand, but also about Audi's direction for the future – to be the most successful premium brand by 2015," said Benoit Tiers, MD, Audi India. "It embodies the philosophy of ''Vorsprung durch Technik''. It will revolutionise the Indian automobile space and will offer an experience of a lifetime to discerning customers in the country."
The car has a  4.2L(4,163 cc ) V8 engine derived from the Audi RS4 sports sedan, tuned to produce 420 Bhp at 7,800 rpm. This power, mated with an ultralight all-aluminum Space Frame body can take you from 0-100km/hr in 4.6 seconds, all the way upto 301 km/hr (if you can find the right road!).
The Audi R8 has a distinctive exterior and interior styling that offers the feel of a luxurious sports car with exclusive equipment coupled with a wide variety of customized interior options, having a day-to-day drivability.
This car is the recipient of several awards including the prestigious "World Performance Car" and "World Design Car of the Year" at the 2008 World Car of the Year awards.
The car would be shipped directly from Germany with a delay of around 2-3 months after booking. The company, which plans to have a manufacturing facility in Aurangabad, has already sold 4,000 Audi R8 across the globe.
IAB Comment: The Audi R8 has made quite a late Indian arrival, better late than never !! This car is a heavily engineered work of art. Unlike conventional sports cars, this car does have the word "ECONOMY" in its dictionary, in fact, this is the most fuel efficient sports car, money can buy today. If you thought that this car would be a loner in the market you'd be wrong. It has in its sight, rival Porsche 911 Turbo, BMW M6, Mercedes SL 63 AMG, and sibbling Lamborghini Gallardo(also from Audi stable).
Like the R8? Check out this video!
Source: Domain-b