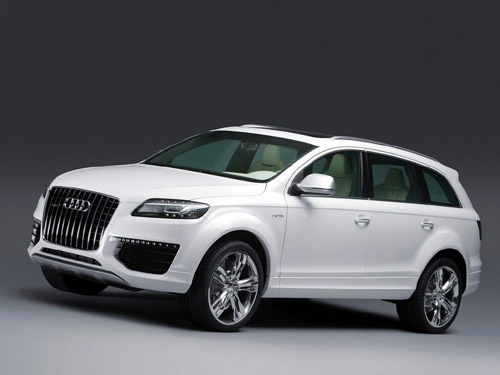 In an age where 'green cars' are making more sense and SUV's are continuing their dormant stint in dealership parking lots, the Audi Q7 has bore out that all SUV's don't have to be alike.
The Q7 has come first in the Smartgreen Index for this year, and the award is given not by editors of Auto Magazines or industry experts, but on the basis of customer feedback in the U.S.A. The Q7 was adjudged winner on accounts of highest advocacy, owner satisfaction, brand loyalty, and delightful customer experiences. Last but not the least, fuel consumption figures were also one of the criteria in which the Q7 excelled.
With the number of Audi dealerships on the rise in India, you may want to consider it over the Cayenne and Touraeg. Anyway. we'll let the Press release do all the talking for now.
IAB Comment- The award sends a strong message that Q7 customers have made the right choice choosing the Audi brand over the others.
Press Release-
The Audi Q7 luxury sport-utility vehicle earned the highest rating in its category under a new consumer sentiment index aimed at identifying the smartest "green" choices available to U.S. consumers.
This is the first year for the SmartGreen Index?, or SGI?, tabulated by the San Diego-based marketing research firm Strategic Vision. The index is based on actual customer experiences with perceived quality, overall value (the "Smart" components) and performance on environmental measures, such as fuel economy (the "Green" component). Strategic Vision weighs customer responses to find trends that would best predict customer advocacy, owner satisfaction, brand loyalty and, in the end, model and nameplate sales.
The Audi Q7 stood out in those measures among all 2008-model and 2009-model luxury SUVs.
"This recognition provides further proof that Audi vehicles overall, and the Audi Q7 in particular, offer exceptional satisfaction and long-term value," said Audi of America Executive Vice President Johan de Nysschen. "It also clearly reinforces Audi's commitment to provide environmentally sensitive vehicle choices throughout our model lineup."
Strategic Vision said the 2008 index digs into consumer data to find the few models that provide "a meaningful emotional connection" with U.S. consumers. Simply claiming the best fuel-efficiency numbers, a hybrid power plant or strong customer-satisfaction scores isn't enough, Strategic Vision officials explained.
"When customers do not have to compromise their desired vehicle styling, roominess, power and price to obtain the best fuel economy and environmental friendliness in class they have made the SmartGreen? choice," said Alexander Edwards, president of Strategic Vision's automotive division.