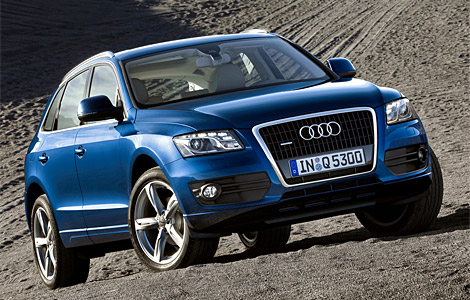 Audi being a premium car maker and not affected by the downturn, is gearing up to launch its Q5 SUV in India in the month of June. The Q7 has been doing extremely well and the Q5 is expected to do even better compared to the mighty Q7.
Sibling rivalry will also exist as the Q5 has the same styling and equipment but only loses out on the third row of seats.
Audi spokesperson-
The only SUV in India from our stable is Q7, which is doing extremely good even in the present situation. But still some people prefer a smaller SUV and because of this, we have decided to offer Q5 in the Indian market
The homologation of the Q5 is presently underway and it will be imported as a CBU from Audi's Ingolstadt plant in Germany and expect it to come with a heavy price tag. The Audi Q5 sells for 38,000 to 50,000 Euros in Germany in a choice of 4 engine options. India is most likely to get the turbocharged 3.0l 235 bhp diesel and it might also get a 2.0l TFSI Petrol engine with 207 bhp. Prices for the Q5 will start at around 45 lakhs.
Source : Economic Times